Artists Pia Lindman, Vidha Saumya and Jenni-Juulia Wallinheimo-Heimonen have been selected to exhibit in the Pavilion of Finland at the 60th International Art Exhibition – La Biennale di Venezia in 2024. The exhibition is curated by Yvonne Billimore and Jussi Koitela and commissioned and produced by Frame Contemporary Art Finland.
The exhibition brings together three artists whose artistic practices are acutely informed by their embodied experiences of structural, environmental and social imbalances in the world. Each artist has crafted a transdisciplinary practice in which art, life and activism are consciously intertwined. Articulated across a wide range of materials and processes — including performance, poetry, embroidery, drawing, sculpture and healing — their artworks celebrate the pleasure of the personal as a powerful means of inhabiting, imagining and remaking more plural worlds.
For the 2024 Venice Biennale, Frame commissions new works by each artist that will premiere in the Pavilion of Finland, in dialogue with one another.
"We are excited for this opportunity to work together in a multifaceted collaboration that reimagines the pavilion as well as the kind of art, bodies and experiences which the pavilion can support. In the early phases, we are taking time to explore the relationalities of our individual practices and share how our lived experiences impact our work. These exchanges will be the building blocks for the exhibition", the artists and curators say.

"We are happy to embark on this journey with these three wonderful artists. Their unique practices create an intriguing starting point for meaningful collaboration and exhibition at the Pavilion of Finland", says Raija Koli, commissioner of the exhibition and Director of Frame.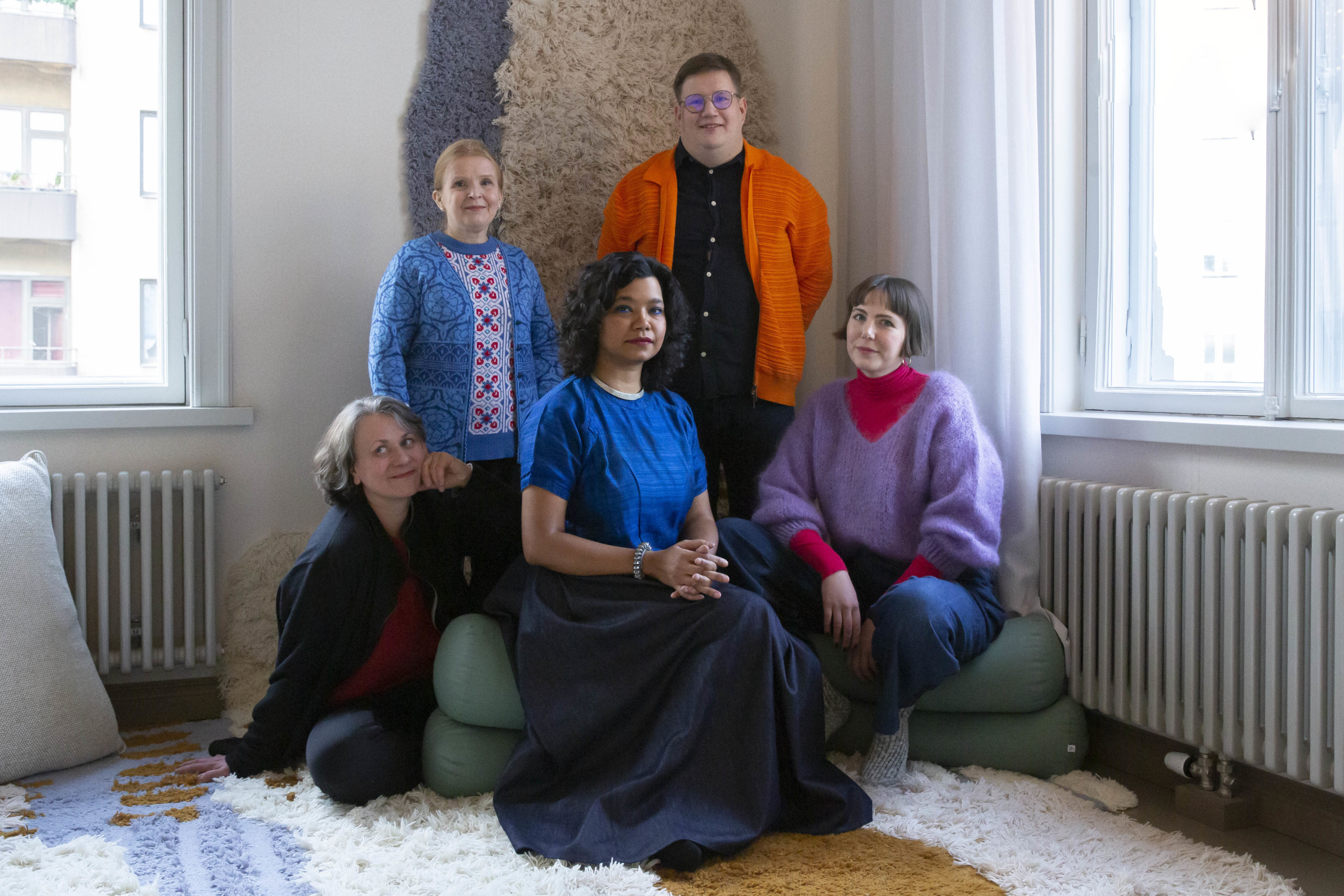 Artists
Pia Lindman explores the world of the subsensorial. After being poisoned by Mercury, her nervous system was sensitised to micro-signals from within her body. These signals she transforms into images, melodies, words, and colours, allowing her to tune into atmospheres, toxicities and materiality in different spatial and social conditions. A fellow at Center for Advanced Visual Studies, MIT (2004–2007) she has shown, among others, at 32nd São Paulo Biennial, MoMA, MoMA PS1 and HKW in Berlin.
Vidha Saumya weaves through notions of exile and utopia, questioning the normatives of aesthetics and socio-political ecologies. Through acrid humour, haptic textures, and arduous workwomanship, her poems, drawings, photographs, videos, books, embroidery, sculptures, culinary interventions, and digital artefacts are at once accessible and intensely challenging. She is co-founder and co-editor of NO NIIN Magazine and a founding member of Museum of Impossible Forms.
Jenni-Juulia Wallinheimo-Heimonen is a multidisciplinary artist and disability activist whose work spans from sculpture, video to performance and activism within disability politics and policy. Her works deal with structural violence, discrimination framed as kindness and issues related to women with disabilities. Wallinheimo-Heimonen has facilitated social art workshops and participated in exhibitions in Finland and abroad. She received the Finnish State Prize for Multidisciplinary Art in 2019.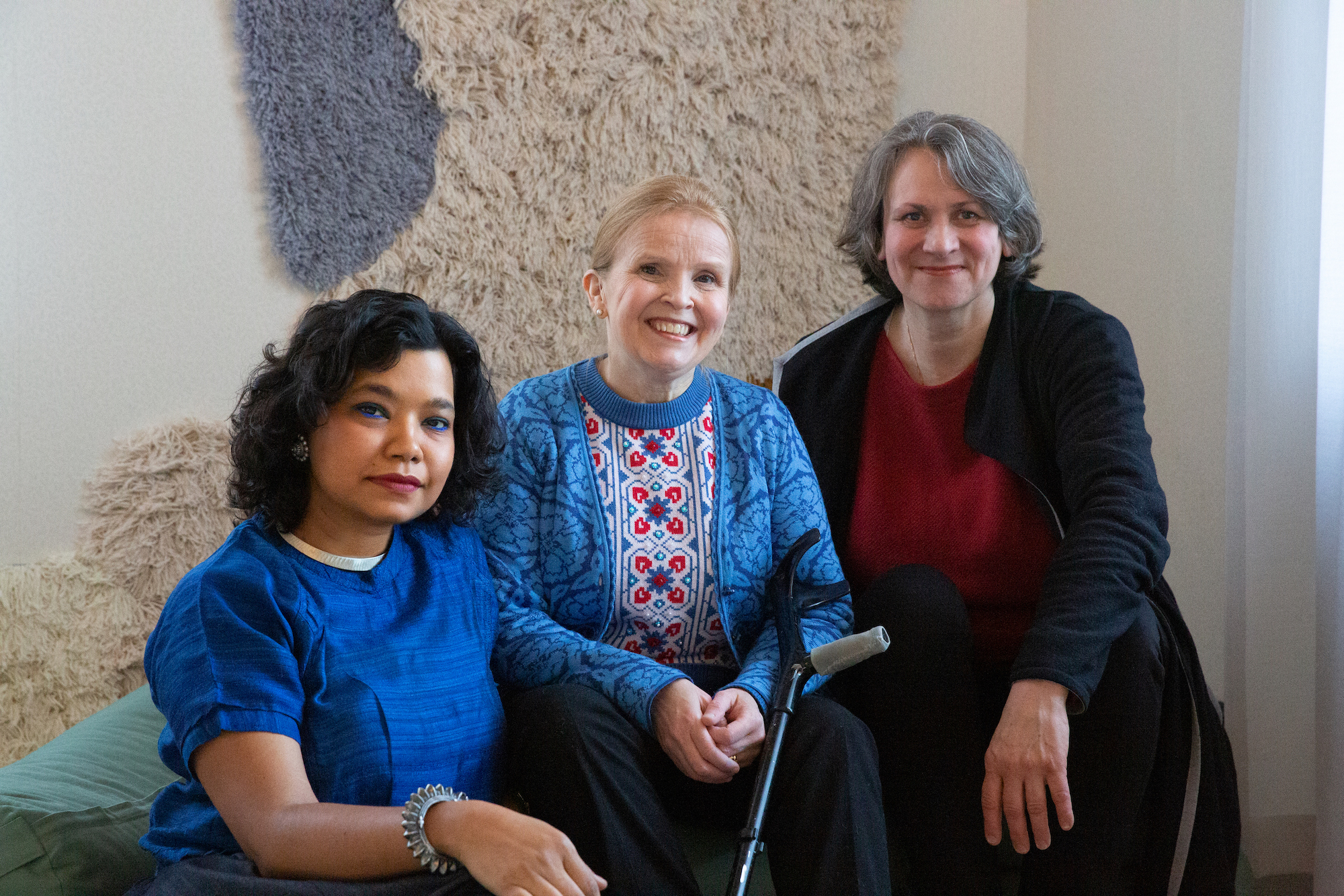 Vidha Saumya, Jenni-Juulia Wallinheimo-Heimonen and Pia Lindman. Image: Jo Hislop / Frame Contemporary Art Finland
Curators
Yvonne Billimore is an artist-curator whose work facilitates situations for collective learning, exchange and experiences, with attention to the intersections of feminist and ecological practices.

Jussi Koitela is Head of Programme at Frame and an independent curator. His curatorial work intertwines art, embodied research methods, urban spatial contexts, collaboration, hospitality practices and materiality in various forms of exhibition and knowledge production.

Together they co-curate Rehearsing Hospitalities, Frame's public programme from 2019 to 2023.
Commissioner
The exhibition in the Pavilion of Finland is commissioned and produced by Frame Contemporary Art Finland. Frame, an advocate for Finnish contemporary art, supports international initiatives, facilitates professional partnerships, and encourages critical development within the field.
Frame has a varying practice for selecting artists featured at the Venice Biennale. For the 2022 biennial, Frame invited the artist based on previous open calls. For the 2019 and 2017 biennials, Frame invited proposals in open calls. On this occasion, Frame's Head of Programme was invited to submit an exhibition proposal.
"Selection is always a result of a careful process and deliberation. Every selection practice has benefits, so we rotate them. Choosing the artists or curators directly without an open call gives more time for fundraising and producing the artworks. Still, it's important to organise an open call regularly", Raija Koli says.
The exhibition is supported by the Finnish Ministry of Education and Culture, Kone Foundation, and other partners.
More information:
Raija Koli, Director, Frame Contemporary Art Finland; Commissioner of the Exhibition
raija.koli@frame-finland.fi, T. +358 44 728 9938
Press inquiries:
Rosa Kuosmanen, Head of Communications, Frame Contemporary Art Finland
rosa.kuosmanen@frame-finland.fi, T. +358 50 465 3462