Ama Josephine Budge, Frame Curatorial Research Fellow for 2021–2023, will visit Finland this October. Budge's research Pleasurable Ecologies – Formations of Care: Curation as Future-building is an in-depth exploration of decolonial and intersectional curatorial care practices. The research acknowledges the entire ecosystem of socio-historical politics involved in curating contemporary art and cultural production. The Fellowship is a collaboration between Frame and EVA International, and supported by Kone Foundation.
Frame will host a public event on Friday 20 October at 5–7 pm at Frame office (Töölönkatu 11 A) where Budge will present her research and discuss it together with Punos curator-researchers Anna-Kaisa Koski and Ki Nurmenniemi.
The language of the event is English. Please register to the event by Wednesday 18 October through the form below.
Frame Curatorial Research Fellowship is a five-year programme for contemporary art curators. The programme offers support for developing new curatorial research practices and imagining new ways of presenting and mediating contemporary art.
Warm welcome!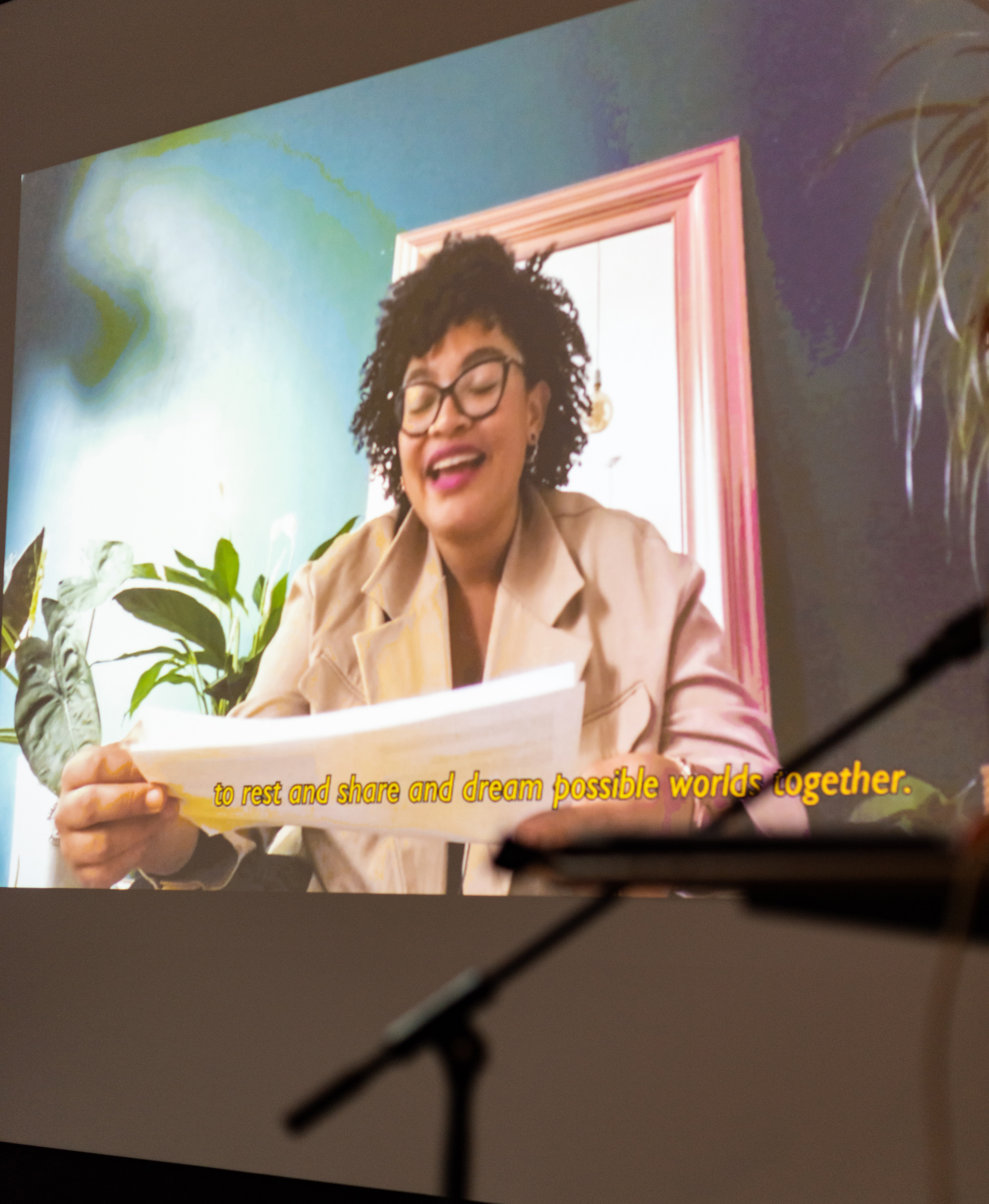 Ama Josephine Budge
Ama Josephine Budge (her/hers) is a speculative writer, artist, curator and pleasure activist whose work navigates intimate explorations of race, art, ecology and feminism, working to activate movements that catalyze human rights, environmental evolutions and troublesomely queered identities. She is a PhD candidate in Psychosocial Studies with Dr Gail Lewis at Birkbeck, University of London. Her research takes a queer, decolonial approach to challenging climate colonialism with a particular focus on inherently environmentalist Pleasure practices in Ghana and across the Black Diaspora.
Read more about Ama Josephine Budge here
Punos Arts and Research
Punos is a transdisciplinary art and research group based in Helsinki, Finland. The research group is involved in an area that lies between the worlds of academic research and the arts: weaving, translating, and transmitting ideas and discussions that lead towards more just and socio-ecologically sustainable worlds. The artistic work and the scientific research feed into each other, as Punos works in close cooperation with artists and research communities.
The research group is currently running the projects Whose Climate, Whose Futures?, and Seeds for Solidarity commissioning collaborative artworks by artist groups committed to advancing global climate justice. Punos works in close cooperation with artists and their interest lies in the importance of imagination in building livable, loveable, and sustainable futures. The underlying idea is that the works facilitated by Punos will become intertwined, forming a new type of arts ecosystem in the long term.
Punos was initiated in 2020 by two curator-researchers, Anna-Kaisa Koski and Ki Nurmenniemi.
Anna-Kaisa Koski
Punos co-founder and co-director Anna-Kaisa Koski (she/her) works at the intersections of the cultural field and climate action. Anna-Kaisa is a Creative Climate Leader trained by Julie's Bicycle (UK). Currently, Anna-Kaisa conducts doctoral research on contemporary art and energy cultures at The Department of Music, Art and Culture Studies at the University of Jyväskylä. She holds Master's degrees in Curating (Aalto University, 2012) and Arts Research (University of Jyväskylä, 2013). Anna-Kaisa has been part of the steering group of the climate campaign Coal-free Finland (Hiilivapaa Suomi), as well as managing a stakeholder development project for Lusto – The Finnish Forest Museum, resulting in the publication 'The Lusto Model' (2020).
Ki Nurmenniemi
Punos co-founder and co-director Ki Nurmenniemi (they/them) is a contemporary art curator educated in Curating, Managing, and Mediating Art (Aalto University, 2013) and Sociology (Tampere University, 2010). Ki is currently conducting doctoral research (DENVI, the University of Helsinki) on how arts organisations, namely artist residencies, develop and disseminate social practices in response to various types of sustainability issues. From 2012 through 2018, they worked as a curator at HIAP – Helsinki International Artist Programme. Ki has curated exhibitions, performative events, and public programs in Finland, South Korea, The United States, as well as online.