Conflicting Relations
March 11, 2023
11am–4pm EST
at Starr Foundation Hall, University Center, The New School, 63 Fifth Avenue, New York, NY 10011
Register

– Link opens in new window
Conflicting Relations is a day-long program that brings together artists, curators, and institutions whose practices go beyond hospitality and act as correctives to prescribed host and guest hierarchies, on intimate and infrastructural levels.
It is convened by Frame Contemporary Art Finland as part of the 2023 Rehearsing Hospitalities programme and co-presented with the Vera List Center for Art and Politics and the Finnish Cultural Institute in New York as part of artist Matti Aikio's 2022–2023 Vera List Center Sámi Fellowship.
Since the inception of Rehearsing Hospitalities in 2019, Indigenous perspectives on matters of hospitality—and acknowledging the various forms of social, cultural, and political inhospitality that Sámi people experience—have been critical to the program and the dialogues it fosters. This two-part event "re-turns" to matters of Indigeneity and hospitality in a US and Canadian context and presents Matti Aikio's practice alongside a range of practitioners to exchange resonances and resistances. Speakers include Matti Aikio, Emily Johnson, Elina Waage Mikalsen, Wanda Nanibush, S.J Norman, Ali Rosa-Salas, Ana Beatriz Sepúlveda, and Karoline Trollvik, among others.
11.00 am Committed Relationships
This session reflects on diverse modes of hospitality and its attendant politics. Pairs of artists and host institutions discuss their long-term relationships and how they redefine practices, understandings, and engagements between them. Choreographer and director Emily Johnson and Ali Rosa-Salas, Vice President of Visual and Performing Arts at Henry Street Settlement, discuss the transformative power of their collaboration and its reverberation throughout the institution. Artist and writer S.J Norman and Ana Beatriz Sepúlveda, Head of Community Access and Inclusion, at Performance Space, map out the relations powering Knowledge of Wounds, a series of care-oriented programs that originated at Performance Space in 2018 and other partner organizations. Artist Elina Waage Mikalsen and Karoline Trollvik, Head of Communications and External Relations, Office for Contemporary Art Norway, discuss their experience working for and in Sámi and majority institutions. Through these and other examples, the panel considers what hospitality looks like when led by Indigenous artists and how institutions self-correct to be in good relations with artists, the land, and local communities. Introductions and moderated discussion by Yvonne Billimore, Associate Curator, Frame Contemporary Art Finland, and Eriola Pira, Curator and Director of Programs, Vera List Center.
1.30 pm Lunch
Hospitality for this program extends to include lunch for all onsite participants.
2.30 pm Matti Aikio in conversation with Wanda Nanibush
In conversation with Anishinaabe curator, artist, and educator Wanda Nanibush, Curator of Indigenous Art at the Art Gallery of Ontario, Sámi artist Matti Aikio presents his research on the so-called "neo-Lapp movement" in Finland and settler-colonial attempts at claiming Indigenous identity. Taking into consideration Indigenous sovereignty and self-determination, Aikio looks past individual violations to question the structural and large-scale implications of this movement as a counter-strategy to the political mobilization of the Sámi. Aikio's practice considers the ongoing conflict between the Sámi culture and the Nordic nation-states' use of natural resources. Introductions by Monica Gathuo, Executive Producer of Together Again project, the Finnish Cultural Institute in New York.
Closing remarks by Jussi Koitela, Head of Programme, Frame Contemporary Art Finland, and Carin Kuoni, Senior Director and Chief Curator, Vera List Center.
The program is live streamed on the Vera List Center and Frame Contemporary Art Finland websites and features closed captioning. Registration is open here.
Conflicting Relations is presented as part of Matti Aikio's fellowship with Vera List Center for Art and Politics, commission with the Finnish Cultural Institute in New York as part of the Together Again project, and his participation in Frame's Rehearsing Hospitalities public programme in 2023.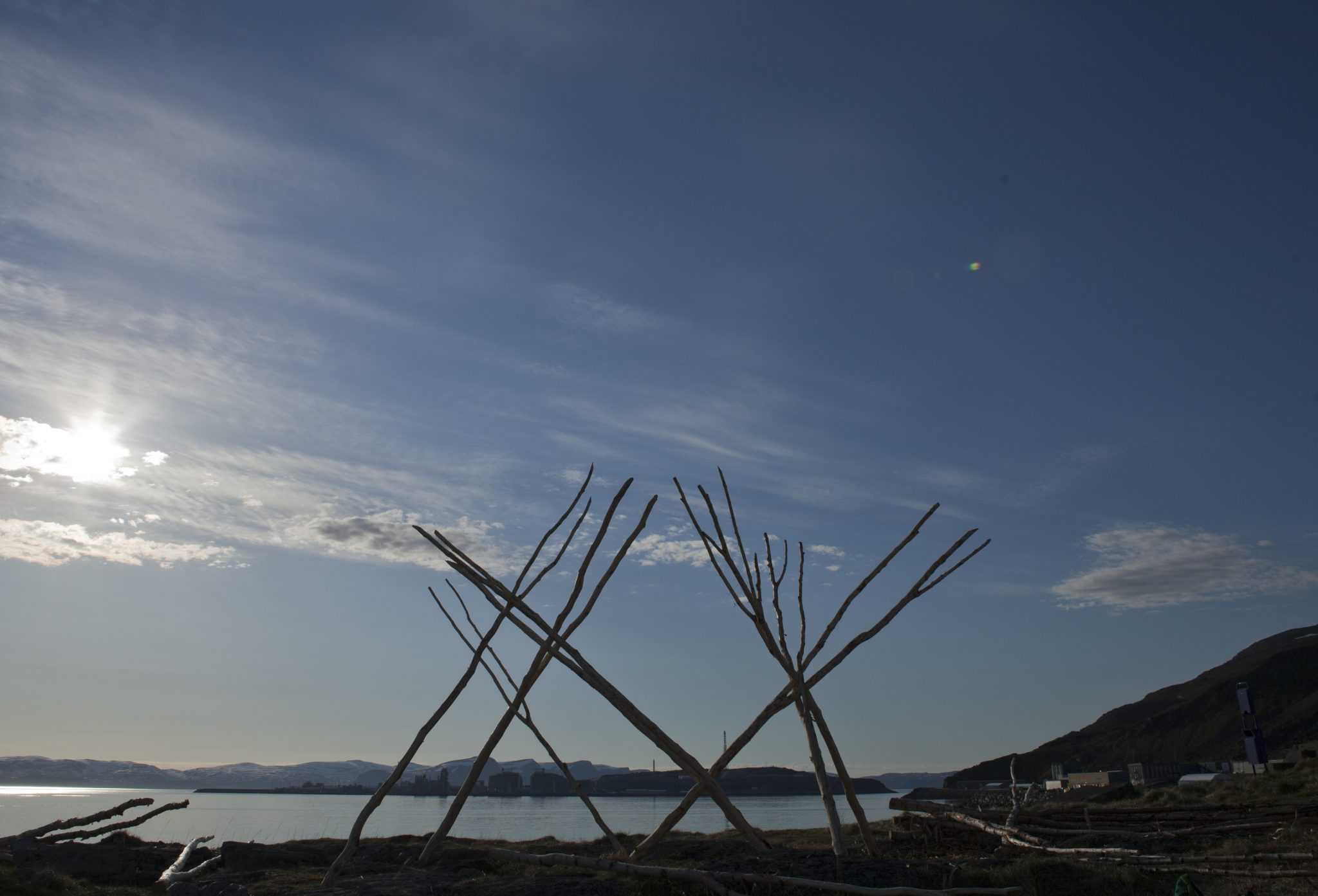 March 11, 2023
11:00am–4:00pm ET
at Starr Foundation Hall, University Center, The New School
64 Fifth Avenue, New York, NY 10011
The event will be streamed online with closed captions, and can be followed on Frame's online venue.
The event is free and open to all. Registration is required.
The Vera List Center tries to share its programs as widely as possible, which means recording the programming and making it available on the Vera List Center, The New School and Frame websites. By attending the event, you consent to photography, audio recording, video recording and its/their release, publication, or exhibition. You can view past Vera List Center events at veralistcenter.org/events/past.
Matti Aikio is a Sámi visual artist from Finnish side of the Sápmi. He has a background in Sámi reindeer herding culture. He holds an MA in contemporary art from Tromsø Academy of Contemporary Art. Aikio's art has been exhibited in various countries in Europe, Asia & Latin America. He works with mixed media, photography, sound, installations, video, sculpture and text. His main interest as an artist is to try to offer the spectators a possibility to shift perspective on established dominant narratives and marginalized topics. Lately he's been focused on topics like the concept, the idea and the image of nature and how the indigenous cultures seem to get suffocated by the schizophrenic nature relationship of the nation states and capitalism. Aikio is one of TBA21-Academy's Ocean Fellows 2022 and also performs as a DJ.
Emily Johnson is an artist who makes body-based work. She is of the Yup'ik Nation, is a land and water protector and an organizer for justice, sovereignty and well-being. Emily lives on the Lower East Side of Mannahatta in Lenapehoking.
Elina Waage Mikalsen is an interdisciplinary artist and musician from Romssa/Tromsø, Sápmi. She works with sound, text, textile, performance and installation. She is Sámi and Norwegian, which is a recurring theme in her artistic practice. The holes that the Norwegian assimilation process created in her family history have become a starting point for fantasizing about and discussing what these holes represent, what matter they constitute and how they affect us today. Elina is currently artist in residence at Borealis – a festival for experimental music in Bergen.
Wanda Nanibush is an Anishinabe-kwe curator, writer, and image warrior from Beausoleil First Nations. Nanibush is currently the inaugural curator of Indigenous art at the Art Gallery of Ontario and co-lead of the Indigenous and Canadian art dept. Wanda Nanibush is involved in collection diversification, and publishes articles for magazines, books and journals. She has curated numerous exhibitions including Rebecca Belmore: Facing the Monumental (2018), JS McLean Centre for Indigenous & Canadian Art (2018) and Rita Letendre: Fire & Light (2017). Her major exhibition, Robert Houle: Red is Beautiful is currently touring to NMAI, Smithsonian in Washington. Nanibush is founder of aabaakwad, a yearly gathering of International Indigenous writers, artists and curators. The last one took place at the Venice Biennale.
S.J Norman is a cross-disciplinary artist and writer. His career has so far spanned 18 years and has embraced a diversity of disciplines and formal outcomes, including solo and ensemble performance, installation, sculpture, text, video and sound. He is a non-binary transmasculine person and a diasporic Koori of Wiradjuri descent, born on Gadigal land. Since 2006 he has lived and worked between Australia, Germany, the UK, and the land known to many as Turtle Island.
Ali Rosa-Salas is a curator whose approach is rooted in the belief that curatorial practice must serve the public good. She finds inspiration from the cultural ecosystems of Lenapehoking (currently called New York City), where she was proudly born, raised and currently resides. For over a decade, Ali has served New York City arts and culture through curatorial projects in performance and visual art. She began her tenure at Abrons Arts Center/Henry Street Settlement in 2017 as Director of Performance Programs and in 2022 was appointed Vice President of Visual and Performing Arts. In her current role, Ali guides the curatorial vision of the Center's presenting, education, and residency programs. In addition to her role at Abrons, Ali is an Associate Curator of the Jacob's Pillow Dance Festival. Ali received a BA from Barnard College in Women's, Gender, and Sexuality Studies and an MA from the Institute for Curatorial Practice in Performance at Wesleyan University.
Ana Beatriz Sepúlveda is currently the Head of Community Access and Inclusion at Performance Space New York. Her main interests lay in the intersection between art and social justice, with an emphasis on the empowerment and inclusion of underrepresented communities in the cultural sector. Initially a journalist, Ana Bé has over 10 years of experience in cultural production and arts management between Puerto Rico and New York.
Karoline Trollvik is Sámi and Norwegian from Gáivuotna/Kåfjord, Sápmi/Northern Norway. She holds a MPhil degree in Anthropology of Development from the University of Bergen (UiB). She was the artistic director of the international Indigenous festival Riddu Riđđu (2014-2018), and temporarily served as museum director at the Várjjat Sámi Musea (2019/2020). From 2018 to 2022 she was a jury member on the committee for festival and event management grants at the Arts Council Norway. She currently serves on the board of Riksscenen – the national hub for traditional music and dance, and Minotenk – a minority political think tank.Trollvik is currently working as Head of Communications and External Relations at the Office for Contemporary Art Norway – OCA.
The Vera List Center for Art and Politics
The Vera List Center for Art and Politics is a non-profit research center at The New School in New York. Through its dynamic interdisciplinary programs, conferences, artist fellowships, residencies, exhibitions, and publications, the VLC imagines and supports new forms of politically engaged art, research, public scholarship, and community around the world.
Correction*
The 2022–2024 Vera List Center Focus Theme: Correction* and the programs dedicated to it explore the tension and discomfort it inspires to pose questions about the metaphorical, political, and social dimensions and implications of correction.
The Finnish Cultural Institute in New York
The Finnish Cultural Institute in New York is a not-for-profit organisation that works across the fields of contemporary art, design and architecture, creating dialogue between Finnish and American professionals and audiences. The institute, founded in 1990, has grown from a residency program to commissioning large-scale projects and events that foster critical dialogue and work to build support for art professionals.
Rehearsing Hospitalities 2023 is part of the EU-funded project Islands of Kinship: A Collective Manual for Sustainable and Inclusive Art Institutions. The Finnish Academic and Cultural Institutes' commissioning programme Together Again is funded by the Finnish Cultural Foundation and the Wihuri Foundation.
The 2022–2023 Sámi Fellowship is a joint initiative between Frame Contemporary Art Finland, the Finnish Cultural Institute in New York, and the Vera List Center for Art and Politics at The New School. 
The Vera List Center is committed to ensuring that the programs are accessible to and inclusive of all. Wheelchair or mobility device seating is available.
The live stream will include closed captioning.
Frame's Safer Space Guidelines
With these principles, Frame strives to create safer spaces in our events and office spaces:
Respect and support. Respect everyone present in the shared space, their speeches, and their participation. Act with good intentions and take care of each other.
Assumption and generalisation. Let's not make assumptions about people's gender, pronouns, sexual orientation, health status, background, abilities etc. without them being told. Respect everyone's right to self-determination and privacy.
Consent. Don't touch or take pictures of anyone without consent. Ask for consent and respect the answer received. In digital spaces, get consent before taking a screenshot or recordings of participants. Be willing to apologise, be open to critique, and change your behaviour if someone asks.
Accountability. Everyone present is involved in the realisation of a safer space. If you witness or encounter discrimination or inappropriate behaviour, please inform this to Frame's staff onsite.
We welcome feedback before, during, and after the events. You can provide this anonymously via the event feedback form. Alternatively, you may contact the events named contact person.
These guidelines were updated during spring 2022 and published in August 2022. They include adaptations from The Peace Education Institute's Guidelines for Safer Space document and Commonfield and Community Agreements. Please feel free to borrow or adapt our guidelines for your needs while creating safer spaces for events.