Along with the Gathering for Rehearsing Hospitalities public programme Frame organises networking possibilities for visiting curators to meet artists, follow the programme and introduce themselves more publicly in an afternoon chat to present their recent work. Everyone is invited to join the events in May.
This time we have focused on curators whose intersectional approaches work with questions of hospitality, access, and knowledge production from varying institutional and research positions.
In the first session on 6 May 2021, curators Eglė Nedzinskaitė, from the Lithuanian National Gallery of Art, Eva Rowson, artist, and Managing Director of Bergen Kjøtt, and Miriam Wistreich, director of UKS (Unge Kunstneres Samfund / Young Artists' Society), will each present their work in fifteen-minute sessions followed by an opportunity to discuss and ask questions. Between each presentation will be a five-minute break.
The second session follows the previous format and concludes on 28 May 2021, with presentations from curators Yates Norton, from the Roberts Institute of Art, Gemma Medina, who has been collaborating with the Van Abbemuseum and the Asociación de Arte Útil, and Kate Brehme, co-founder of Berlinklusion, Berlin's Network for Accessibility in Arts and Culture. 
All presentations will be held in English on Zoom. Events are open to the public and follow Frame's safer spaces policy.
Please register here for the Zoom link: https://forms.gle/rvHodEN66iWXAv14A
Timetable
6 May 2021
1pm–3pm on Zoom
1 pm: introduction the presentations
Eglė Nedzinskaitė
Miriam Wistreich
Eva Rowson
2:45 pm–3pm: discussion
28 May 2021
1pm–3pm on Zoom
1 pm: introduction the presentations
Yates Norton
Gemma Medina
Kate Brehme
2:45 pm–3pm: discussion

About the Curators
Kate Brehme (Berlinklusion)
"My projects span across geographic borders, are collaborative and explore themes including place and cultural identity, labour and work, globalisation, disability and social engagement. I'm guided by the belief that everyone should and can have access to the arts; thus, education and learning form a large part, rather than a by-product, of my curatorial activities, whether they be exhibitions, workshops or events."
Gemma Medina (Asociación de Arte Útil / Van Abbemuseum)
"My research is focused on the relationship between contemporary art and society, socially engaged art, collaborative practices and Arte útil (art as a tool for social transformation), alternative pedagogies and other ways of instituting to reflect about the role of art, art institutions and archives."
Eglė Nedzinskaitė (Lithuanian National Gallery of Art)
"Currently, I am working on a project That Strange Art which is an educational program for teenagers during which 24 of them are working in four teams (as curators, architects, exhibition designers, and communicators) to curate and create an exhibition. I am also in a project aiming to rethink the history of the National Gallery of Art building. In soviet times it was built as a Museum of Revolution and was a place and channel of soviet propaganda. In various of my projects, I try to make the museum a platform for the voices of people who are usually unheard, not only in the art world but also in society."
Yates Norton (The Roberts Institute of Art)
"I am a curator, working principally on public programmes and residencies. My work has been rooted in thinking about interdependence as a way to heal the damage wrought by individualism and competition that are the hallmarks of what is generally known as 'neoliberalism' as well as the attitudes and assumptions that come with oppression and internalised oppression. This has been key to my work with my close friend David Ruebain, with whom I collaborate."
Eva Rowson (Bergen Kjøtt)
"The question 'who's doing the washing up?' continues to be a key focus in all my encounters in culture, which talk about hospitality, social practice, community and inclusion. After we've theorised "radical hospitality" in exhibitions, conferences, and institutional statements, have our value judgements on the work which actually sustains this hospitality in practice (cleaning, administration, security) also radically changed?"
Miriam Wistreich (UKS (Unge Kunstneres Samfund / Young Artists' Society))
"In my new role at UKS, I'm interested in understanding how we can build institutions for the present (and, of course, for the future). UKS will be moving to new, spacious premises, and this allows us to revise core questions in our program and, to some extent, our structure. We will be closing the institution for refurbishment, and in the meantime, we hope to collaborate with national institutions, and our focus will be on the climate crisis and access."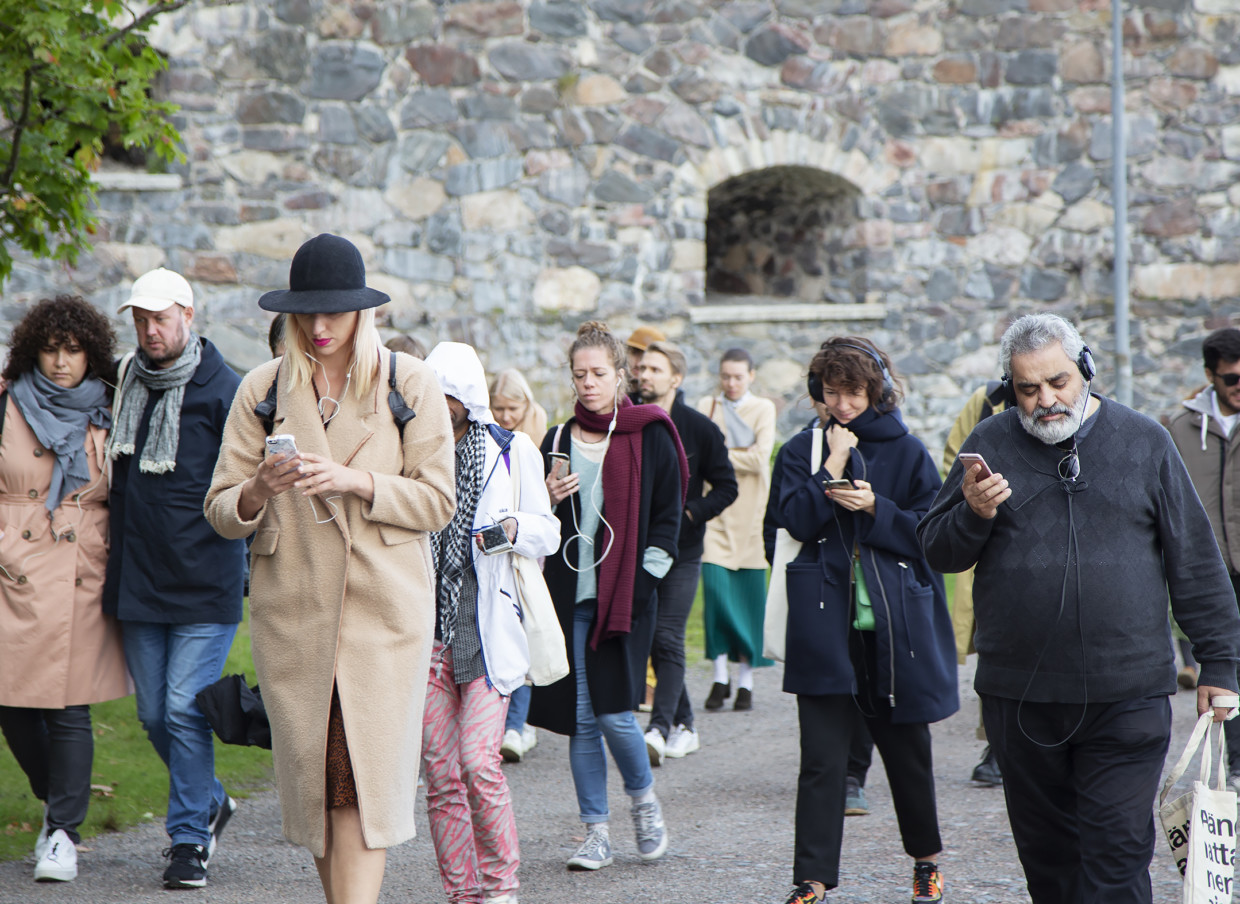 Gathering for Rehearsing Hospitalities Spring 2021
is an online and onsite programme that runs from mid-April until the end of May. It connects artists, curators and other practitioners within the field of contemporary art, and beyond, to rehearse and debate hospitality towards diverse ways of knowing and questions of access. The programme experiments with formats for gathering and hosts opportunities to engage in person or remotely.
Read more

– Link opens in new window