The Finnish Pavilion Without Walls continues Performa's mission to showcase vibrant performances from around the world, bringing together experimental performance, dance, and sound-based artists from Finland for the 10th edition of the Performa Biennial.
Performa Biennial, a festival dedicated to interdisciplinary performance by visual artists, takes place across New York City between November 1–19. This year Performa's renowned Pavilions Without Walls program commissions and presents interdisciplinary live performances by contemporary artists based in Finland. Many of them will make their U.S. debut with Performa.
The Finnish Pavilion Without Walls will present works by artists Teo Ala-Ruona, Anna Maria Häkkinen and Niko Hallikainen; Jenna Sutela in partnership with Swiss Institute; an event at the Performa Hub with chef Antto Melasniemi and artist Rirkrit Tiravanija; a two-part sound series curated and co-commissioned with PUBLICS titled SONIC TONIC ASSEMBLY featuring AGF, Bhavisha Panchia, Chris Williams x Lester St. Louis, DeForrest Brown (Speaker Music), Tony Cokes, Lamin Fofana, Islaja, KMRU, Lau Nau, and Cucina Povera. Artist Pilvi Takala will be this year's Performa Hub's Artist-in-Residence.
The Finnish Pavilion Without Walls is organized by Performa in collaboration with the Finnish Cultural Institute in New York, Frame Contemporary Art Finland, the Consulate General of Finland in New York, and HIAP – Helsinki International Artist Programme. The Sonic Tonic Assembly is co-produced by Performa, PUBLICS and PALO Art Productions. The Pavilion is generously supported by the Ministry of Education and Culture, Jane and Aatos Erkko Foundation, and Saastamoinen Foundation.
"The Performa Biennial is the most significant contemporary performance event in North America and offers a unique opportunity for Finnish artists to develop their practices, connect with American artists and audiences, and seize new opportunities. We are extremely proud to be presenting a variety of emerging and established contemporary artists for audiences in the U.S., many of whom are on view for the first time in New York." says Kati Laakso, the Executive Director of Finnish Cultural Institute in New York.
Founding Director & Chief Curator, RoseLee Goldberg: "By forging generative connections with cultural institutions around the world, the Pavilion Without Walls program not only brings new artistic voices to New York, but also supports the creation of new work that continues to expand the understanding of performance today. The Finnish Pavilion promises to be an extension of this experimental ethos that has been at the heart of Performa's mission since its inception."
Senior Program Advisor and Curator at Large, Defne Ayas: "Thanks to the vibrant cultural ecology, visual art scene, and clubbing culture in Finland with its generous cast of artists and thinkers, our program will stimulate a dynamic conversation around sonic politics, along with deep listening opportunities and conceptual inquiries through the medium of performance. Not only will we delve into uncharted soundscapes, but also experience a myriad of textures from the cosmic and macroscopic to the intimate and microscopic, connecting them to the various histories of New York and its intersectional resonances today."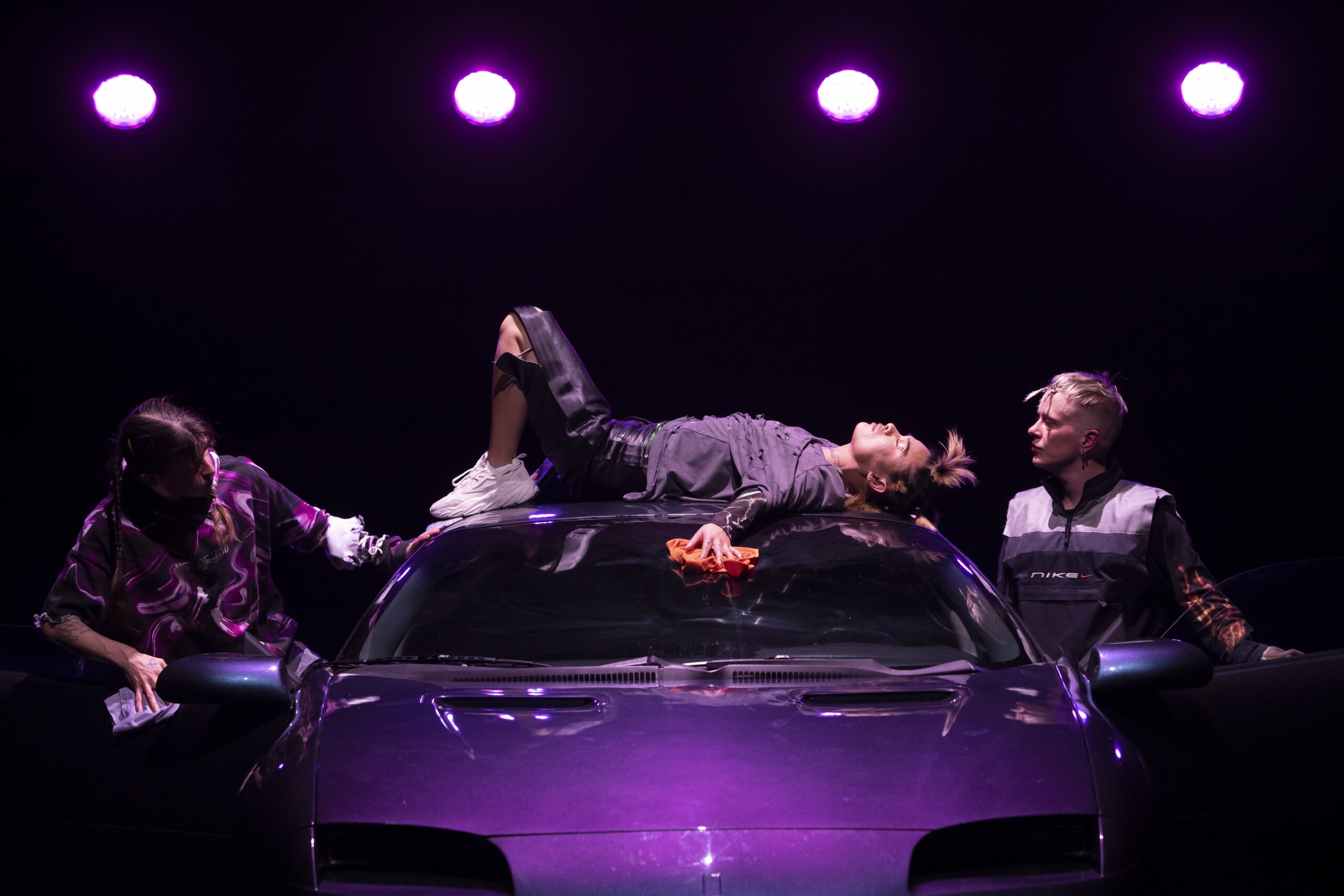 Artists
Teo Ala-Ruona is a multi-disciplinary artist, performer, and writer whose work investigates the construction of gender through digital technology and ecological challenges. In the New York premiere of Enter Exude, Ala-Ruona takes audiences on an ominous joyride, where the once-idyllic landscape is put at risk by the energy industry. The ever-changing nature of the body is symbolized through the sleekness of a sports car, as Ala-Ruona explores techno-trans-masculinity as well as familial bonds in the age of fossil-fuel capitalism.
Anna Maria Häkkinen, a Helsinki-based choreographer and artist, is known for incorporating elements of physical movement, body contact sports, and sculptural composition in her work. For her New York debut, Häkkinen begins with the question: "How to bring back dance?" Using dance principles such as duration, repetition, and precision, Häkkinen interweaves her teachings in Helsinki with New York's experimental dance communities, paying homage to figures such as Judson Dance Theater founding member Lucinda Childs. Inspired by electronic dance music, the performance will feature musician Keliel (aka Eliel Tammiharju), dramaturg Emil Santtu Uuttu, and a young generation of New York-based dance artists, forming new constellations of movement in space.
Niko Hallikainen, a performance poet and novelist—whose text-based, durational performances explore themes of class, sexuality, mysticism, and mourning—reflects upon desire and loss through the narrative of a romance in his New York City debut at Performa Biennial. A site-specific work incorporating New York's queer artistic histories, Lavender Deal is a two-part narrative about a pandemic-era relationship over Zoom with a long-distance lover. Hallikainen contextualizes his affair and longing through the art and writing of David Wojnarowicz, William S. Burroughs, and John Wieners in an intergenerational "séance" inspired by poet John Giorno's Buddhist ceremonies.
Jenna Sutela will create a live performance responding to her current installation, Vermi-Sibyl, 2023 at Swiss Institute (SI). Taking Marjory––a trash heap and oracle figure from the Muppet universe––as a point of departure, Vermi-Sibyl gathers compostable materials by SI's staff which are then processed by approximately one thousand worms. The vermicompost in turn powers an AI-generated sound installation on SI's rooftop that transmits oracular messages to the East Village. Sutela's performance builds upon the installation by collaborating with a choir of voice actors and a saxophonist who will read out Vermi-Sibyl's divinations and play a musical score. Through this embodied materialization of the formerly AI-generated content, Sutela's performance addresses post-humanist amalgamations of organic and non-organic life.
Presented by Performa and PUBLICS—a curatorial and commissioning agency with a dedicated research library and event space in Helsinki—with PALO Art Productions at Pioneer Works,SONIC TONIC ASSEMBLY is a listening program of innovative sound artists using location-specific field recording as their starting point to create aural worlds at the intersection of sonic poetry, abstracted music, and experimental black and global feminist technologies. For the Performa Biennial, SONIC TONIC ASSEMBLY consists of two "episodes" over the course of a single day, both of which use sound as a means for analyzing the ecological and social landscapes of Finland in a time of rapid change. Episode one, entitled "Sonic Wilderness," features AGF, Islaja, Lau Nau, and Cucina Povera; and episode two, "Sounding a Black Grammar," features KMRU, Tony Cokes, and DeForrest Brown (aka Speaker Music) with Chris Williams x Lester St. Louis, Lamin Fofana, and Bhavisha Panchia.
Pilvi Takala will be this year's Artist-in-Residence at the Performa Hub, beginning research for a future commission at the next Performa Biennial. Takala is a renowned contemporary artist based in Berlin and Helsinki working in video, installation, and performance, who explores and challenges cultural conventions, behavior patterns and power dynamics through intervention. She often identifies distinctive communities or environments in which to immerse herself to gain deeper insight into values, beliefs, rituals, and nuances of individual groups. Through keen observation and an empathetic approach, the intricate details of her experiences become material for her process-based exploration into unspoken rules and expectations that govern daily life and decisions. Takala will present video and research material, not only reflecting on her previous projects, but also her experiences during the residency.
Performa Curator At Large for the Finnish Pavilion Without Walls
Job Piston joined Performa in 2012 and has performed various roles for the organization including Special Projects Manager, before taking on his current role as Curator At Large of the Finnish Pavilion. He launched the first Performa Social Commission with Tania Brugera in 2015. He was curator of major commissions and projects with Barbara Kruger, Zanele Muholi, Korakrit Arunanondchai with Alex Gvojic and boychild, Sara Cwynar, Kia LaBeija and Shikeith. Job has organized programs with Derrick Adams, Discwoman, David Gilbert, Richard Kennedy, Sigrid Lauren and Monica Mirabile, Tabita Rezaire, Jacolby Satterwhite and James Welling as well as presented About Time (2013), AFTERHOURS (2017), Artist Party (2018) and TIME SHARE (2020). He has organized artist collaborations, brand partnerships and digital content for the Performa Biennial. 
 He began his institutional career while at the Wattis Institute in San Francisco where he worked with Abraham Cruzvillegas, Aurelien Froment and the archive of Paul McCarthy on the publication Paul McCarthy's Low Life Slow Life published by Hatje Cantz. He recently organized the video program Excelcior featuring science-fiction films by Asian diaspora artists from Norway, Berlin, Cambodia, and Taiwan for Art at a Time Like This and NOWNESS. Additional projects have included Elmgreen & Dragset, Charlap Hyman & Herrero, Juliana Huxtable and Hayal Pozanti. 
Job received his Master of Fine Arts from the University of California Los Angeles as his Bachelors of Fine Art at the California College of the Arts.