Rehearsing Hospitalities Companion 2 Readings
Autumn 2020
Rehearsing Hospitalities Companion 2 is the second in a series of readers published in September 2020 by Frame Contemporary Art Finland and Archive Books, which accompany Frame's five-year public programme Rehearsing Hospitalities.
Expanding on the notion of a publication as a site for gathering, the publication launch took the form of a series of four online readings in autumn 2020 with various publication contributors.
Looking beyond normative and institutionalised understandings of access, this publication considers access from a manifold of approaches, perceptions, and relations. It asks, how can arts organisations and institutions treat access not as general or universal policy, but instead understand access needs as coming from plural and decentralised ways of knowing and experiencing the world?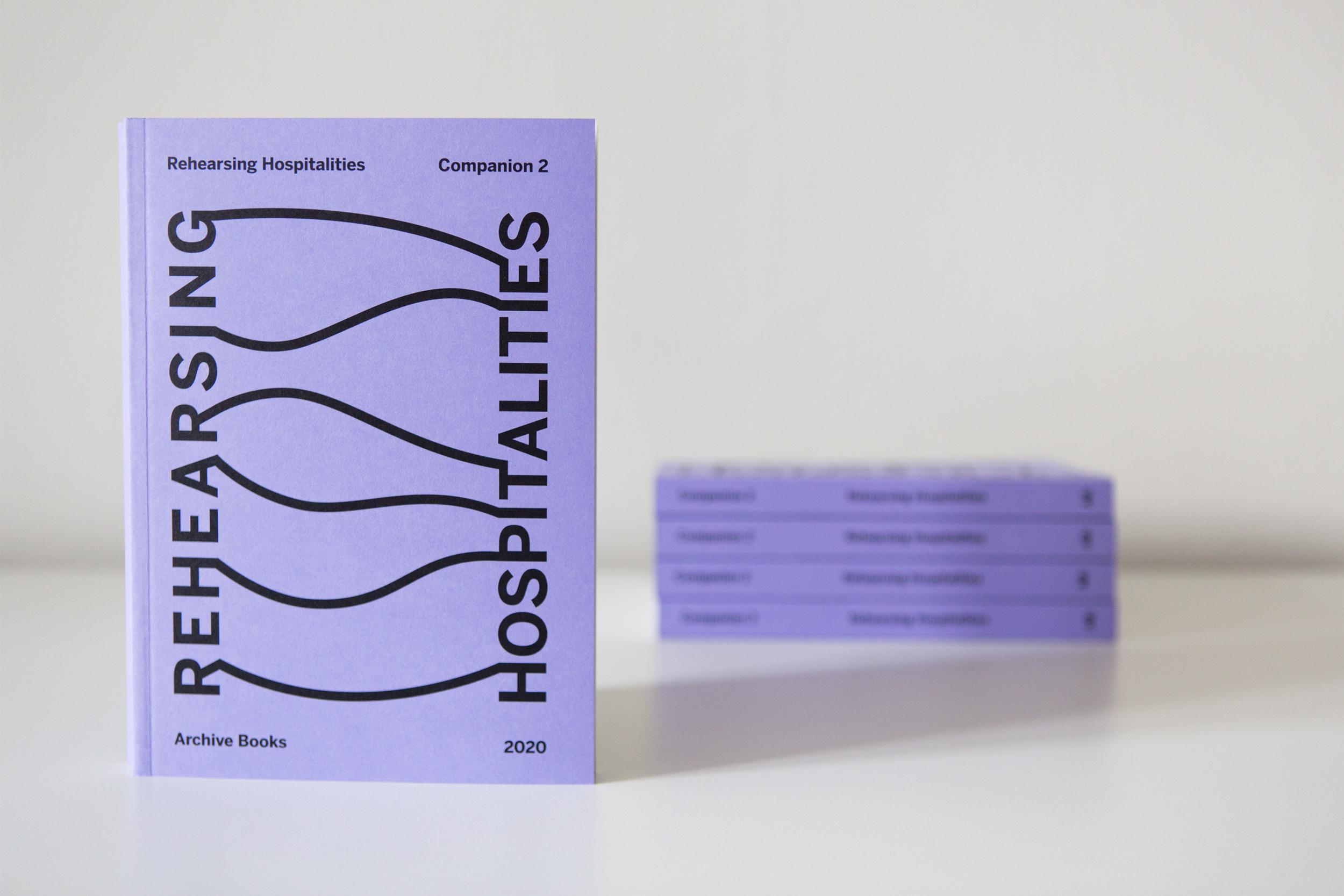 Readings 1
with Camille Auer, Yvonne Billimore and Jussi Koitela, and Chiara Figone. 
Following an introduction from Frame's Director Raija Koli, the Rehearsing Hospitalities Companion 2 editors Yvonne Billimore and Jussi Koitela presented the publication and the contributions in more detail. They were joined by Chiara Figone from Archive Books, the Rehearsing Hospitalities Companion series publishers.
After the opening discussions, artist and publication contributor Camille Auer presented a video reading of her text "end ending beginning beginning". 
See the video on Frame's YouTube channel
Readings 2
with Annet Dekker, and Susanna Ånäs and Ali Akbar Mehta, hosted by the publication editors.
In this event, Annet Dekker was invited to present her contribution to Rehearsing Hospitalities Companion 2 "Archival absurdity, or a walk in the park". 
Annet Dekker's text takes us on a journey from her childhood garden with sweet berry bushes to her new allotment garden, and further onwards to think-with a speculative project based in Helsinki Central Park. Allotment Archives is a project which mirrors a real project (Central Park Archives) but remains a fictional thinking exercise. Annet's fictitious project Allotment Archives invites us to consider different approaches for commons archiving from the artist-activist to the federative-archivist.
Following Annet's reading, artists Susanna Ånäs and Ali Akbar Mehta from m-cult project Central Park Archives shared responses to Annet's text in reflection with their own work.  
See the video on Frame's YouTube channel
Readings 3
with Aimi Hamraie, and Marianne Savallampi & Touko Vaahtera, hosted by the publication editors. 
In this event, Aimi Hamraie was invited to present their contribution to Rehearsing Hospitalities Companion 2 "From exceptional accommodations to Disability Justice design: ways of thinking about accessibility as hospitality". In their essay, Aimi reflects on accommodationist approaches to access and a project they call "access-knowledge" which has its roots in "knowing and making access for disabled people". While access-knowledge as a historical phenomenon has a long lineage of inhospitable projects, Aimi introduces how new progressive forms of access-knowledge are emerging from within the Disability Justice movement. 
Following Aimi's reading, Marianne Savallampi and Touko Vaahtera presented their contribution "Cultural power relations and anti-hierarchical possibilities in the epidemic era". This contribution takes the form of an in-conversation where Marianne and Touko unpack deep seated forms of ableism and normativity prominent in mainstream cultures. In this correspondence they share their experiences of witnessing the coronavirus epidemic in Finland unfold. While pondering how issues such as conditions of work, labour values, access to cultural activity, and anti-capitalist practices, became increasingly points of concern in the public sphere, they question whether this shift in attitude and consciousness will be sustained. 
See the video on Frame's YouTube channel
Readings 4
with Denise Ferreira da Silva and Astrida Neimanis, hosted by the publication editors. 
In this event, Denise Ferreira da Silva was invited to present their contribution to Rehearsing Hospitalities Companion 2 "If hospitality, then the duty is to repair and to foster''. 
Denise Ferreira da Silva speaks to the importance of acknowledging difference and the disparities existing in who is afforded access to shelter and hospitality. Denise insists we begin to address that while many crises may be global, such as COVID-19, they are not universal. How we are exposed to and affected by crises are marked by inequality and racial differences—a consequence of centuries of colonialism and racial subjugation. Denise raises the point that racialization is deeply entrenched in politics and philosophies of access and hospitality as she calls for their reconsideration. 
Following Denise's reading, Astrida Neimanis presented her contribution "The body is the site of climate catastrophe". Astrida and Denise's contributions can be very much read as in dialogue with each other. Reflecting on the devastating times of the 2019–2020 "Black Summer'' bushfires in Australia, Astida provides a humbling reminder that "these times'' are not just haunted by COVID-19 but by a myriad of human/more-than-human crises. Astrida's writing allows us to access the complex entanglements of the world, such as those of climate catastrophe, by bringing them back to the intimacy of the body. Issues of hospitality and access are innately embodied through a constellation of writings presenting the body as a host of climate catastrophe.
Camille Auer is at a loss. She doesn't know what to do. This is what she does know: she's a poet and an artist. She has an MA from Aalto University. She's trans and bisexual. Why is that something she writes in her bio. Maybe because she used to say dyke and she used to need to make sure people don't make false assumptions about her gender and now it's a habit. She has to write her bio every now and then for work stuff and she almost always does it again, because what she writes always eludes what she thinks of herself the next time a bio is required. She is a precarious art worker. She loves it, but it's also very stressful. She wouldn't know what else to do. It's the basket she has put all of her eggs in. She lives in Turku and loves dogs and theory. 
Chiara Figone is an editor, educator, agitator, and founder of Archive Books a publishing endeavor nurtured by a community of practitioners collaborating across regions and socio-political environments, at the core of Archive's work lies a commitment to disrupt Eurocentric epistemologies. As a result, Archive's work is deeply rooted in a sustained scrutiny of the role of languages, visuality, and archives in the perpetration of the coloniality of knowledge. The impulse to publish stems from the desire to disseminate stories for the subversive potential they can yield, creating cracks in dominant narratives, fleeing accounts of history with a capital H and turning to the power of the fragment. Archive is committed to an expanded idea of art publishing encompassing different voices and formats.
Annet Dekker is assistant professor Media Studies: Archival and Information Studies at the University of Amsterdam and visiting professor and co-director of the Centre for the Study of the Networked Image at London South Bank University. She has previously been Researcher, Digital Preservation at Tate, London and core tutor at Piet Zwart Institute, Rotterdam, and Fellow at Het Nieuwe Instituut, Rotterdam. Alongside being an independent curator, she worked as web curator for SKOR (Foundation for Art and Public Domain) and curator/head of exhibitions, education and artists in residence at the Netherlands Media Art Institute. 
Central Park Archives is a project exploring practices of collaborative archiving, together with communities and residents of Maunula, Helsinki. This long-term project is inaugurated in 2020 as a local/online residency with artists Susanna Ånäs and Ali Akbar Mehta, both whose artistic practices deal with conceptual extensions of the archive and the commons. The project is co-produced by Iida Nissinen and Minna Tarkka from digital culture and collaborative art agency m-cult. 
Aimi Hamraie is associate professor of medicine, Medicine, Heath, and Society and American studies at Vanderbilt University, where they also direct the Critical Design Lab. They are author of Building Access: Universal Design and the Politics of Disability (University of Minnesota Press, 2017). 
Marianne Savallampi is a curator and art historian based in Helsinki. Currently she is co-artistic director at Museum of Impossible Forms culture centre. Her practice works within the cross-sections of art, queer, feminism, and activism. 
Touko Vaahtera, PhD, is a queer-disability studies scholar based in Helsinki. Their research interests include disability studies, queer theory, methodology, affect theory, cultural studies, and post-colonial stud- ies. Their new research project focuses on Eve Kosofsky Sedgwick and disability studies. 
Denise Ferreira da Silva is director and professor at the University of British Columbia's Social Justice Institute (GRSJ) and a 2019 Wall Scholar. She is the author of Toward a Global Idea of Race (2007) and A Divida Impagavel (2019). Her artistic work includes the films Serpent Rain (2016) and 4Waters-Deep Implicancy (2018), in collaboration with Arjuna Neuman; and the relational art practices Poethical Readings and Sensing Salon, in collaboration with Valentina Desideri. She lives and works on the traditional, ancestral and unceded territory of the Musqueam (xwmə0kwəyəm) people.
Astrida Neimanis is feminist writer and teacher interested in bodies, water and weather, and how they can help us reimagine justice, care, responsibility and relation in the time of climate catastrophe. Her most recent book is Bodies of Water: Posthuman Feminist Phenomenology. She is also co-editor, with Jennifer Mae Hamilton, of the Australian Feminist Studies special issue on feminist environ- mental humanities, and co-convenor of the Composting Feminism and the Environmental Humanities reading and research group. She currently works as a senior lecturer in Gender and Cultural Studies at the University of Sydney on Gadigal Land, in Sydney, Australia.