Reading List Leaders podcast series
May 2020
Reading List Leaders is a four-part aural gathering recorded as a podcast series by visual artist and poet Vidha Saumya. Released every Tuesday over four weeks between 5th and 26th of May 2020, artist and poet Vidha Saumya hosted conversations and readings with her invited 'Reading List Leaders'.
Reading List Leaders was initially planned as weekly gatherings for reading and listening in the Frame Contemporary Art Finland office. However, restrictions on the act of gathering in Finland, India and throughout the world due to COVID-19 and political unrest in 2020 made weekly physical gatherings impossible. In the podcast series the readings continue in complementary and meaningful ways. Still a place to gather, the online podcast conversations and readings activate, archive and share both the under-celebrated Indian writers who appear on Vidha's Reading List, and the Reading List Leaders themselves.
Reading List Leaders include co-founder of the Dalit Panther Archive Shrujana Niranjani Shridhar, Indian developmental feminist activist, poet, author and social scientist Kamla Bhasin, filmmaker, writer and founder of multi-media project Agents of Ishq Paromita Vohra, and co-organiser of the Feminist and Anti-Racist Night School Arvind Ramachandran, along with visual artist and poet Vidha Saumya.

Podcasts are in various Indian languages.
Sound design by artist Kim Modig (Orker).
Reading List
Reading List Leaders is an extension of Vidha Saumya's poem and wall mural Reading List, the first work in a series of artistic commissions at Frame Contemporary Art Finland's office space.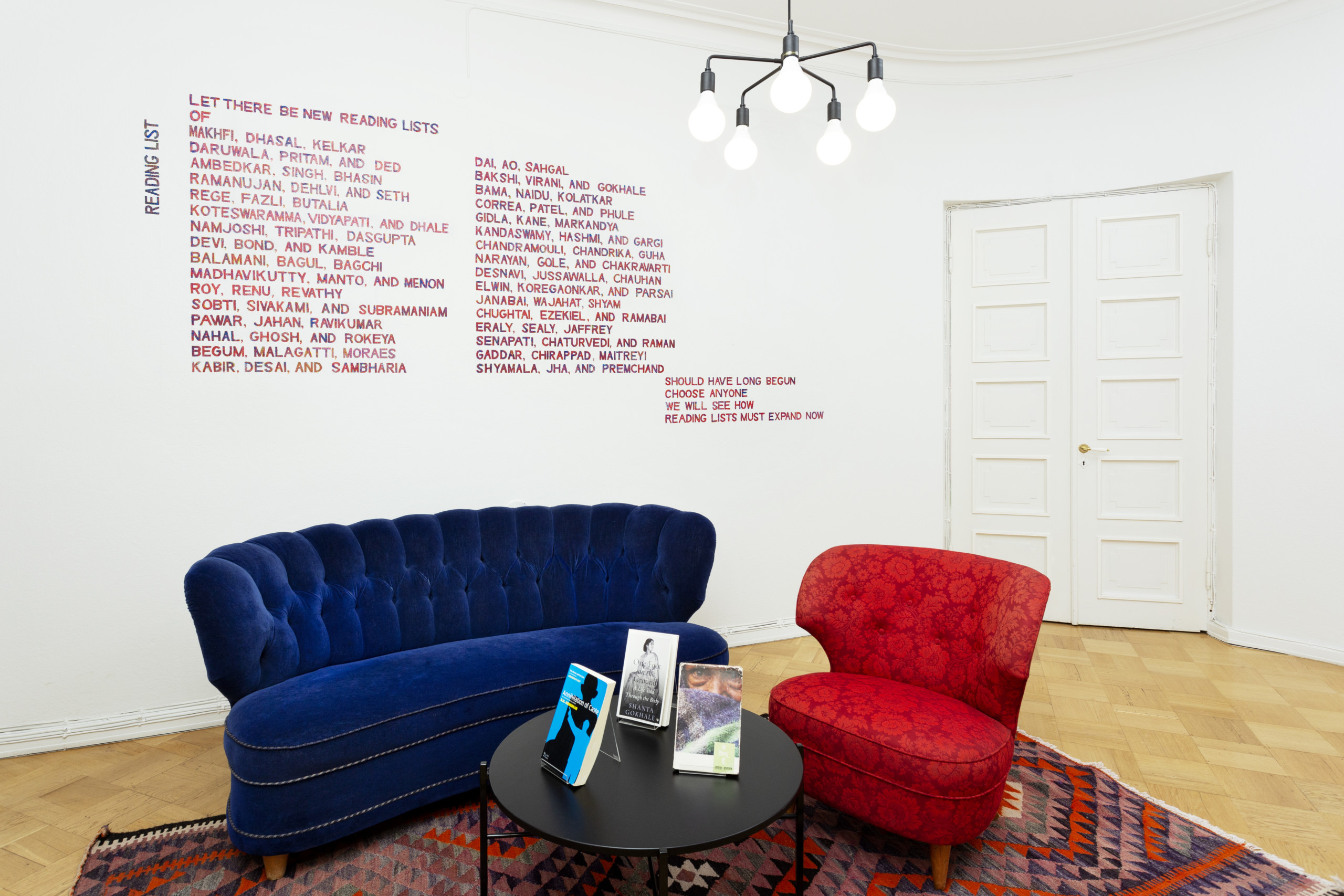 Podcasts are available on Acast: https://shows.acast.com/reading-list-leaders
Reading List Leaders Podcast 1:
Vidha Saumya and Shrujana Niranjani Shridhar
Languages: Marathi, English
In the first Reading List Leaders podcast, Vidha Saumya hosts illustrator, designer and co-founder of the Dalit Panther Archive Shrujana Niranjani Shridhar.
Shrujana's readings include: an excerpt from Black Independence Day written by Raja Dhalefor Sadhna Magazine in 1972 for Indian independence day; Don't Bail Me Out by Namdeo Dhasal, a poem penned by Dhasal after he was jailed in the early seventies in India; and Using Little Magazines for Fame is Foolishness, an essay by Raja Dhalelamenting people who publish little magazines just because it's 'cool' to do so. 
Reading List Leaders Podcast 2: 
Vidha Saumya and Kamla Bhasin
Languages: Hindi-Urdu, English
In the second Reading List Leaders podcast, Vidha Saumya hosts writer, activist and social scientist Kamla Bhasin.
Kamla's reading list includes: Corona Ke Zamaane Mein (In the Times of Corona), written on March 26, 2020; Kya Main Make-up Karti Hoon (Do I Use Make-Up); Yeh To Meri Marzi Hai (It's My Wish); Mere Naarivaad (My Feminisms); Aao Hum Auratien Apni Jagah Banayein (Let's Make Space); Khamoshi (Silence); Khoobsoorat Ya Khoobseerat (); Me Too; Because I Am A Girl, I Must Study
These simple poems are sung by feminist groups in various countries in South Asia.
Kamla Bhasin's poems in English:
Kya Main Makeup Karti Hoon? (Do I Use Makeup?)
In this free-verse poem, Kamla Bhasin does a wordplay on the use of make-up, as a word and as an action. Asked innocently by a woman in her audience if she uses make-up, Kamla responds, yes, I do, I make up my mind, make-up my dreams, makeup my intentions, makeup promises. not satisfied with the answer, the woman asks again, "But do you use make-up on your body and face?". Unperturbed, Kamla replies, "Yes, I do. I have had a close and long relationship with my body, I respect it, I accept it as it is, I don't compare my body with beauty queens, and since I am in love with my body, I decorate it, I spend an hour only with my body, I take it out on a walk, strengthen its limbs through yoga, all my life I've refined my body, and the body supported me all along, we've both turned 73, my body and I, and we've both leaned on each other through this life. But, dear friend, my makeup if you mean what I call fake-up, then that is something I haven't done. My face, body, it's features and its colour are appealing to me in their original form, I haven't succumbed to the market of beauty, I have avoided all that is fake – fake faces too. So my dear, curious friend, people have had to like me just as I am and as they lovingly stroke my silver hair or laugh alongside my countless wrinkles, they've shown they're not affected by my ageing body because I am always just as I have been…"
Hum Sikandar Hain, Shikaar Nahin / We Are Winners, Not Prey
This poem narrates the difference between a victim and a survivor. It says that patriarchy may have assigned us as being a victim – a pawn, a stooge, gullible and weak, oppressed, unaware. We are preyed upon in the confines of our own homes and often the assailant is our own kin. Whether in the form of foeticide, infanticide, hunger, unattended, neglect, rape, property-less, and often by simply curbing our freedom. But now it's time for some good news. The good news is that even if not all, but many women are no longer weak, incoherent, we no longer care for what others may say, our hearts don't cry helplessly, were no longer oppressed, entrapped. We are committed, alive, strong. We are no longer prey, we are winners. We are forerunners of our own destiny. We persevere but are not looking for conflict. Neither are we a prey not want to prey on anyone. We know the trauma of being oppressed and hence we foresee a world where there are no unequals, where we freedom and happiness are found at all intersections.
Reading List Leaders Podcast 3: 
Vidha Saumya and Paromita Vohra 
Language: English
In the second Reading List Leaders podcast, Vidha Saumya hosts filmmaker, writer and public speaker, Paromita Vohra
Paromita's readings include: Love in the Time of Protests, published February 2020 in The Indian Express; My True North: All renewal starts with the self, December 30, 2018 in The Indian Express; The Tip Of Your Tongue, published May 2016 in the Mid-Day; Enquirational Me,published May 29 2016 in the Mid-Day; Speaking in Tongues, published September 2015 in the Mid-Day; At Political Peace, published April 2010 in the Mid-Day; and  Is the covid-19 pandemic a perfect opportunity for humans to introspect? Published April 2020 in The Economic Times.
Reading List Leaders Podcast 4: 
Vidha Saumya and Arvind Ramachandran
Languages: Tamil, English
In the third Reading List Leaders podcast, Vidha Saumya hosts stand-up comedian, organiser and artist Arvind Ramachandran.
Arvind Ramachandran and Vidha Saumya will discuss topics such as: 
1) Expanding the reading list: How do we expand reading lists to include not just often ignored authors, but also often ignored forms of writing, or even non-writing forms of content. 
2) Sharing the reading list: How does what one reads find its way to reach others? 
3) Transplanting the reading list: We move. In an age of migration, how do our reading lists reflect our stories. 
Vidha Saumya
Vidha Saumya is a drawer, poet, cook and bookmaker. Her recent solo exhibition 'Monumentless Moments: the Utopia of Figureless Plinths' comprising seven books of poems and a Reader, was on view at MAA-tila project Space, Helsinki in March 2020. Vidha Saumya's poem and wall mural 'Reading List' was the first work in a series of artistic commissions at Frame Contemporary Art Finland's office space within the context of the Rehearsing Hospitalities public programme 2019-2023. She has read her poems in festivals and seminars such as Baltic Circle Festival and Runoviikko Poetry Festival amongst others.  She is a founding member of the Museum of Impossible Forms – a cultural centre located in Kontula, East-Helsinki, and is currently working on the project 'Paper, pulp, words, books: recipes for counterculture rebellion' supported by TAIKE, Finland.
Shrujana Niranjani Shridhar
Shrujana Niranjani Shridhar is an illustrator and designer practicing in Mumbai. She completed her Diploma in Visual Communication and Art from Srishti School of Art, Design and Technology, Bengaluru. Her practice revolves mainly around children's literature and illustrations. In 2016, she co-founded the Dalit Panther Archive, which has been documenting the Dalit Panther movement of the 1970s. Her research interests revolve around the exploration and definition of a Dalit aesthetic that has existed in the Indian sub-continent for centuries, in its myriad heterogenous forms. Her work examines socio-political relations, especially at the intersection of gender, caste, and class.
Kamla Bhasin
A social scientist by training, Kamla Bhasin has been actively engaged with issues related to gender, education, identity politics, militarization, human rights and democracy since 1970. She has written extensively on gender, women's empowerment, participatory and sustainable development, participatory training, media and communication. Currently, she works with 'Sangat' – A Feminist Network as Adviser; 'JAGORI' – A Women's Resource and Training Centre; and 'Jagori Rural Charitable Trust' as an active member. She is the South Asia Coordinator of' One Billion Rising' – a global campaign to end violence against women and girls; Co-Chair of the worldwide network 'Peace Women Across the Globe'; and member of 'South Asians for Human Rights (SAHR)'. Prior to this, she worked with the Food and Agriculture Organization of the United Nations for 27 years.
Paromita Vohra
Paromita Vohra's work mixes fiction and non-fiction to explore themes of desire, sex, love, urban life, popular culture and feminism. Her work spans various forms – film, sound installation, digital media, writing, interactive workshops and acting – and has been broadcast internationally, shown in museums such as the Tate Modern, Wellcome Collection and the National Gallery of Modern Art and has taught in universities around the world. She is the founder and creative director of Agents of Ishq, a first-of-its-kind digital project about sex and love in India. She writes two weekly columns – ParoNormal Activity in Sunday Midday and How to Find Indian Love in Mumbai Mirror.
Arvind Ramachandran
Arvind Ramachandran is a stand-up comedian, organiser and artist. His work focuses on confronting visible and invisible oppressive structures operating in contemporary society, especially as they affect those without class, caste, gender and race privileges. He currently co-organises the Feminist and Anti-Racist Night School and co-hosts PoC Open Mic in Helsinki.