Gathering for Rehearsing Hospitalities autumn 2019
Autumn 2019
Gathering for Rehearsing Hospitalities was a six-day gathering 9–14 September in Helsinki, Finland. The event brought together local and international arts audiences for a week of interactions and dialogues.
Gathering for Rehearsing Hospitalities began on Monday 9 September with film screening at Bio Rex movie theatre, curated by Rachael Rakes, curator, critic, and teacher from New York City.
From Tuesday to Friday the morning discussion series Rehearsing Dialogues engaged participants in dialogues at Museum of Impossible Forms in Kontula. In these sessions a diverse range of practitioners shared, performed, and rehearsed how their practices respond to various epistemologies and ways of knowing.
Commuter salon Salon & Speakeasy by Sumugan Sivanesan and Irina Mutt happened daily during the commute between different venues. Alongside an open mind and listening ear, Salon & Speakeasy offered hand massages and palm readings.
On Saturday 14 September a participatory installation by Bread Omens (Jani Anders Purhonen and Elina Rantasuo) produced by artist-led collective Asematila, explored bread-making as a method for building and sustaining communities.
As one of Frame's key collaborators, Museum of Impossible Forms presented A series of soft gestures towards Hospitality. These gestures are the result of collaborations with a number of partners and artists in the programme including curatorial duo nynnyt, artist-led collective Asematila, Bread Omens, artist Heidi Hänninen, bread makers from Tikke Restaurant, as well as other invited guests and participants from Kontula in Helsinki.
Gathering for Rehearsing Hospitalities was moderated by Jussi Koitela (Head of Programme Frame Contemporary Art Finland) and Yvonne Billimore (Associate Programme Curator Frame Contemporary Art Finland).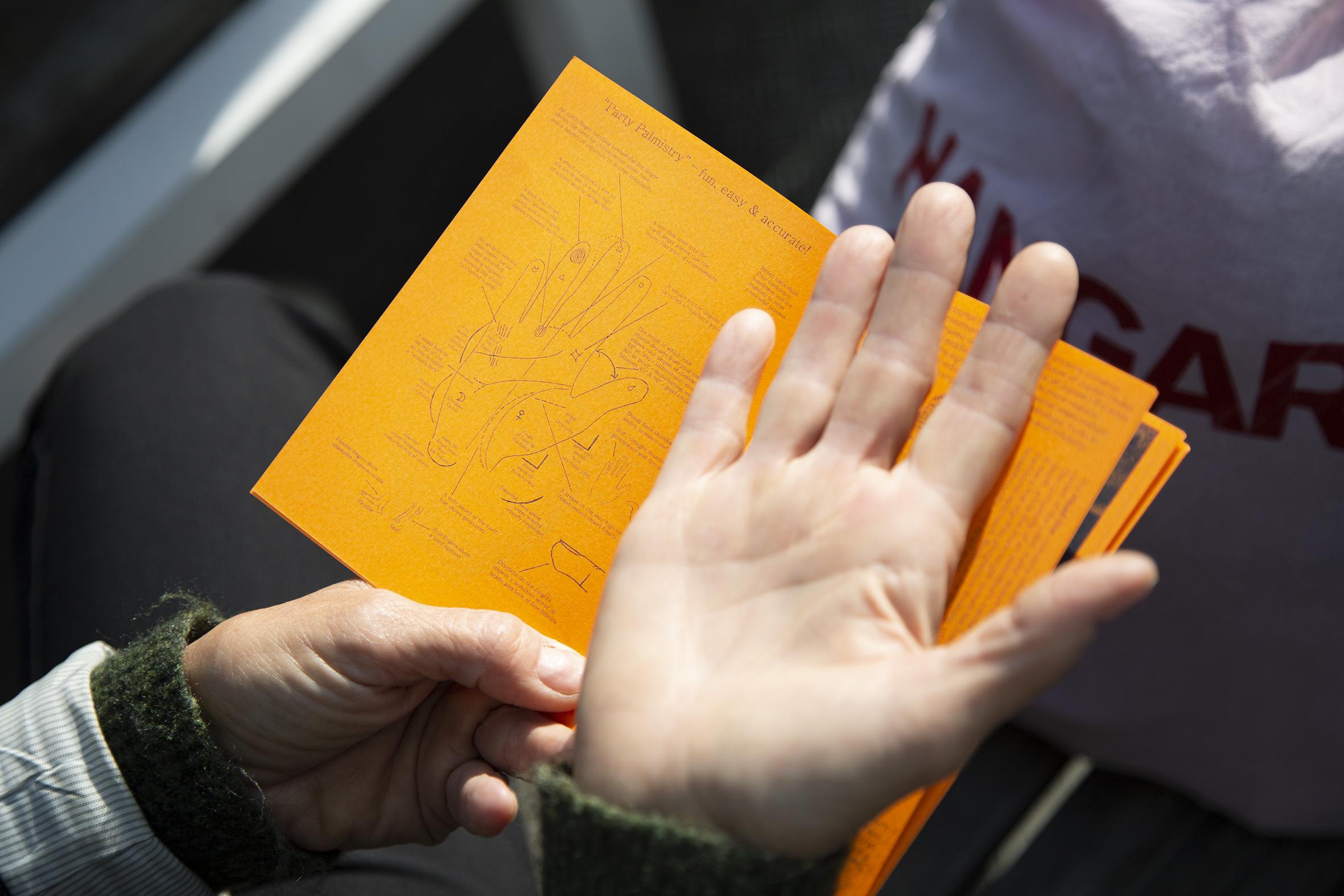 Camille Auer, Bread Omens (Jani Anders Purhonen and Elina Rantasuo), Rosa Tolnov Clausen, Colectivo los Ingravidos, Clelia Coussonnet, Marjolijn Dijkman, Nazli Dincel, Rick Dolphijn, Marie-Andrée Godin, Jacqueline Goss, Eeva-Kristiina Harlin, inaway (Ramina Habibollah and Nayab Ikram), Tereza Jindrová, Toril Johannessen, Hanna Laura Kaljo, Mari Keski-Korsu, Nadiye Koçak, Pia Lindman, Marie Lukáčová, André Filipek Magaña, Anna Matveinen, Militza Monteverde, Irina Mutt, Myriagon (Tuomas Aleksander Laitinen and Jenni Nurmenniemi), nynnyt (Orlan Ohtonen and Selina Väliheikki), Sini Pelkki, Laure Prouvost, Sepideh Rahaa, Rachael Rakes, Azar Saiyar, Vidha Saumya, Eileen Isagon Skyers, Sumugan Sivanesan, Martta Tuomaala