Epistemic Hospitality
March 2019
"In trying to become "objective", Western culture made "objects" of things and people when it distanced itself from them, thereby losing "touch" with them. This dichotomy is the root of all violence." Gloria Anzaldúa, Borderlands/La Frontera (1987).
Epistemic Hospitality was a day-long discursive event held on the 13th of March in Helsinki, marking the first event in Frame's programme Rehearsing Hospitalities. Employing this quote from scholar of Chicana cultural, feminist and queer theory, Gloria Anzaldúa's book Borderlands/La Frontera as a point of departure, Epistemic Hospitality brought together practitioners to ponder how artistic, curatorial and institutional practices can foster and host versatile knowledges and ways of knowing. The event was organised by Frame Finland in collaboration with Bioart Society, Instituto Iberoamericano de Finlandia, Embassy of the Federal Republic Germany Helsinki and Goethe-Institut Finnland.
One of the event's key concerns was questioning what or who plays a decisive role in determining which forms of knowledge are considered valid. It asked: how can feminist curatorial practice, new artistic paradigms and decolonization of Western art histories elevate diverse knowledges and ways of knowing? How can these practices bricolage, engage and work with knowledges situated within a wide range of human-non-human transcultures?
Inhabiting subsensorial XYZ, the exhibition of Bioart Society artist in residence Pia Lindman, Epistemic Hospitality is first situated directly within Pia's artwork: a mapping of SOLU's environmental sensibilities and complexities and the effect they have on her as a multisensory system and organ.
The discussions and exchanges are built around a series of talks and dialogues, as well as the working process of Pia Lindman, Bioart Society's current exhibiting artist and artist in residence. Participants of the event are artist Razan Abou Askar, philosopher Rick Dolphijn, curator Giovanna Esposito Yussif, researcher Eeva-Kristiina Harlin, curator and researcher Maria Iñigo Clavo, artist Kristiina Koskentola, artist Pia Lindman, artist Anni Puolakka, art historian and curator Regine Rapp, artist and researcher Sepideh Rahaa, curator Elina Suoyrjö, curator Jennifer Teets, curator and director Jochen Volz.
Together the dialogues challenge traditional Western European epistemologies through artistic, curatorial and research practice. They envision hospitable epistemologies and ways of knowing beyond the toxicities of contemporary binaries such as north and south, human and non-human, and universal science and subaltern knowledges.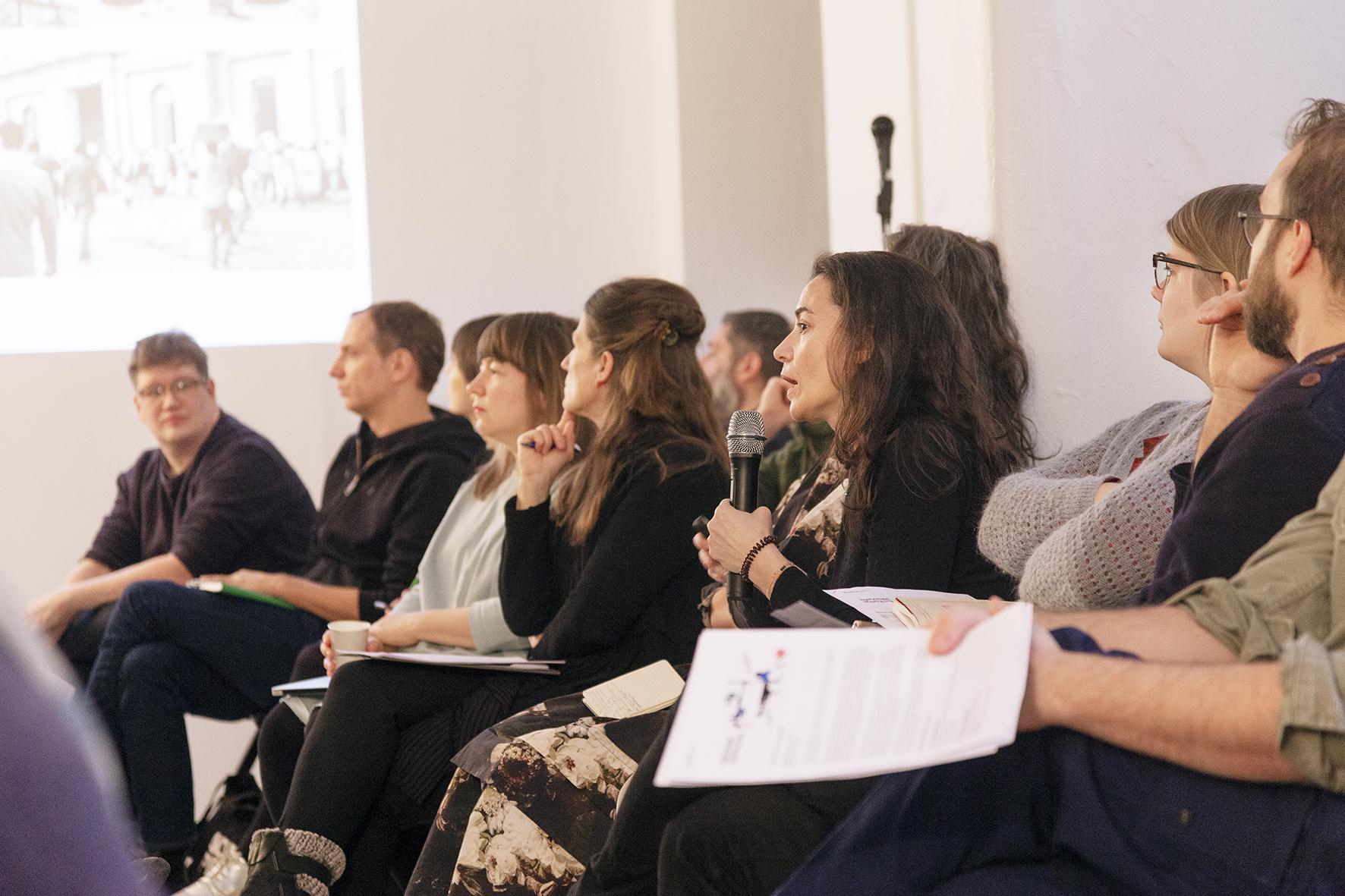 Part one: Situated Discourses
09:30 Introduction and welcome: Jussi Koitela, Pia Lindman and Mari Keski-Korsu (The Bioart Society)
10:00 Talk 1: Maria Iñigo Clavo
10:40 Talk 2: Elina Suoyrjö
11:20 Talk 3: Regine Rapp
Lunch 12.00
Part two: Bricollasing Dialogues
12:45 Dialogue 1: Pia Lindman & Jochen Volz
13:30 Dialogue 2: Kristiina Koskentola & Rick Dolphijn
14:25 coffee break
14:40 Dialogue 3: Sepideh Rahaa & Razan Abou Askar
15:25 Dialogue 4: Eeva-Kristiina Harlin & Giovanna Esposito Yussif
16:10 coffee break
16:25 Dialogue 6: Anni Puolakka & Jennifer Teets
17:20 Open Discussion
18:00 Event ends
Moderated by Jussi Koitela (Head of Programme Frame Contemporary Art Finland) and Yvonne Billimore (Associate Programme Curator Frame Contemporary Art Finland).
Part one: Situated Discourses invited participants Maria Iñigo Clavo, Elina Suoyrjö and Regine Rapp to further ground us. Their research and practices became a frame for hosting a series of discursive exchanges between artists, curators and thinkers in part two where topics can re-emerge and evolve.
Maria Iñigo Clavo's research focuses on coloniality, curating and museology, modernity, and its inventions of otherness, unstranslability, and art in Latin America with special attention to Brazilian Art. In her talk Methodological agency of the popular: towards a non-hegemonic art history, she asked: What would be like a writing of art history without its big names? Could our object of study change our methodologies?
Curator Elina Suoyrjö looked at possibilities of knowledge production arising from happenings of affect in encounters with art. Approaching curatorial work with contemporary art as a feminist practice of summoning energies and warm-hearted feelings, and seeing encounters with art as potentially transformative events, her talk focuses on other forms of knowing and knowledge, leaning towards those of emotion and intuition.
Regine Rapp an art historian, curator and co-director of Art Laboratory Berlin, speaks from the position of a researcher and curator working within the life sciences. Through various projects she reflected on new forms of artistic research and knowledge emerging from Art & Science collaborations.
Part two: Bricollasing Dialogues was composed of a series of conversations between artists, curators and researchers exchanging a range of thinking, approaches and methodologies relating to knowledge and ways of knowing.
Artist Pia Lindman and curator Jochen Volz discussed the work that Pia made for São Paulo Biennale 2016 and her exhibition subsensorial XYZ in SOLU: looking into how her work, which uses her heightened sensitivity as a medium, produces, engages with and depends on certain forms of knowledge.
Artist Kristiina Koskentola explores modes of knowledge production, polyvocal subjectivity and agency of multiple co-actors (human and not) often through "peripheral" or forgotten ecologies. During the event she screened her film Our Bodies Have Turned to Gold (2018) and alongside philosopher Rick Dolphijn discussed transcultural and post-human perspectives on knowledge.
Artist Sepideh Rahaa's practice questions social norms and conventions while focusing on everyday life, womanhood, resistance, migration and representation. Exchange forms the basis of Sepideh friendship and professional collaboration with artist Razan Abou Askar. Their in-conversation focused on using experience based knowledge as a method for shared practice.
Curator Giovanna Esposito Yussif and researcher Eeva-Kristiina Harlin discussed the concept of rematriation and how this sensible epistemological restoration can inform the practices of exhibiting, archiving, and researching heritage and cultural belongings. They focused on the artistic research project Máttaráhku ládjogahpir – Foremothers Horn Hat which Harlin developed in collaboration with Finnish-Sámi artist Outi Pieski.
Artist Anni Puolakka and curator/writer Jennifer Teets respectively discussed their work and research on lactation, nipples, and fluids as a way to engage contemporary epistemological structures – their conversation largely asked questions around scalar thinking as a way to approach the "backstory" of matter, combined with issues of rights, health, and ecology.
Razan Abou Askar is a Palestinian-Finnish artist living in Helsinki. Her BA studies of English Language and Literature reinforced her artistic interests, especially in writing and performance art. Her writings depict traditionally taboo subjects, as well as the tension between one's native culture and adopted homeland and the difficulty of finding one's place in a transnational and intercultural setting. Currently she pursues her Master's degree in Intercultural Encounters in the University of Helsinki and is completing a traineeship at Culture for All Service.
Rick Dolphijn is an associate professor based at Humanities, with an interest in transdisciplinary research at large. He has published widely on new materialism, ecology/ecosophy and art and is interested in the developments in continental philosophy and speculative thought. His academic work has appeared in journals like Angelaki, Rhizomes, Collapse and Deleuze Studies. Most recently he published an edited volume entitled Michel Serres and the Crises of the Contemporary with Bloomsbury Academic.
Giovanna Esposito Yussif is a curator and researcher with background in art history, museology, and critical theory. Since the past few years, Giovanna has focus her praxis on collective models of inquiry, exercises of criticality, and processes of dissentient imaginations. Through her work, she is devising research on non-dominant practices. She is currently co-curating the Pavilion of Finland at the 58th Venice Biennale with the Miracle Workers Collective.
Eeva-Kristiina Harlin is a doctoral researcher at the University of Oulu, Giellagas Institute (institute for Saami Cultural Studies) in Finland. Her PhD deals with tangible Sámi heritage and repatriation politics. She has worked in Sámi museums in Finland and in Norway and she is specialized in Nordic and European Sámi collections and repatriation. Currently she works with Sámi artist Outi Pieski in a project called "Máttáráhkku ládjogahpir – Foremothers horn hat.
María Iñigo Clavo is a researcher, curator and lecturer at Open University of Catalonia and associate lecturer at Central Saint Martins School of Arts (University of the Arts London), with a PhD in Fine Arts. Her research focuses on coloniality, curating and museology, modernity, and its inventions of otherness, unstranslability, and art in Latin America with special attention to Brazilian Art.
Kristiina Koskentola is visual artist. She earned her PhD from the University of the Arts/ Chelsea College in London. Her work spans across media including video, photography, materials, stories, objects, interactive performative projects, publications and lectures. With her recent projects she explores modes of knowledge production, polyvocal subjectivity and agency of multiple co-actors (human and not) often through "peripheral" or forgotten ecologies. Transcultural and monistic perspectives, materiality and coexistence are central to her ethically and socio- politically driven practice.
Since 2017, Pia Lindman is doctoral candidate at the program of Nordic Cultures and Environmental Politics at Lapland University researching her concept of the subsensorial. A result of many years of investigation into the body and its place within the cultural space, Lindman's work responds to a contemporary desire to mend the fission between science and art, healing and creativity – and moves beyond the human body proper to multiple realms of life.
Anni Puolakka is based in Helsinki and Rotterdam and makes performances, videos, installations drawings and texts in which situation-specific or documentary materials are incorporated into fictional worlds. The works play with the boundaries and potential of human animals as they seek meaningful and vibrant – sometimes drowsy or dirty – involvement with other beings, objects and surroundings. Puolakka has an MFA from the Piet Zwart Institute, The Netherlands. She teaches at Aalto University and Theatre Academy, Helsinki and co-organizes sex-positive, feminist festival Wonderlust.
Sepideh Rahaa is a multidisciplinary artist and researcher based in Helsinki and born in Iran. In her practice, she is focused on everyday life, womanhood, resistance, migration and representation. Sepideh's and Razan's friendship and professional collaboration started and expanded further by knowing each other's views while working together in the art project 'A Dream That Came True?'.
Regine Rapp is an art historian, curator and co-director of Art Laboratory Berlin (ALB). Her research focuses on art in the 20th and 21st century: Installation Art, Text and Image Theory, the Artist Book, and Art & Science Collaborations. As a research associate at Burg Giebichenstein Kunsthochschule Halle she taught art history. As a research associate at the Institute of Biotechnology of the TU Berlin, she is currently connecting Art & Science research in the project Mind the Fungi.
Elina Suoyrjö is an independent curator and the director of Titanik art space in Turku, Finland. Her curatorial practice builds upon working collaboratively and often site/situation-specifically with artists. She holds an MA in curating from Stockholm University, MAs in both history of art and gender studies from the University of Helsinki, and a PhD in the field of feminist thought and curating from Middlesex University, London.
Jennifer Teets is a curator, writer, researcher and performer born in Houston, Texas, living and working from Paris. Her research and writing combines inquiry, sciences studies, philosophy, and ficto-critique, and performs as an interrogative springboard for her curatorial practice. She is co-curator (w/Margarida Mendes) of The World in Which We Occur, a curatorial research-based entity that explores themes concerned with artistic inquiry, philosophy of science, and ecology.
Jochen Volz is the General Director of the Pinacoteca de São Paulo. In 2017, he was the curator of the Brazilian Pavilion for the 57th Biennale di Venezia, presenting Cinthia Marcelle – Hunting Ground. Volz was the curator of Incerteza Viva (Live Uncertainty), the 32nd Bienal de São Paulo in 2016. Prior he has served as Head of Programmes at the Serpentine Galleries in London between 2012 and 2015.