Editorial Tables: Reciprocal Hospitalities
at The Showroom, 63 Penfold Street, London
Preview: 24 January 2023, 6.30–8.30pm
Public Programme: 25–26 January
Continues: 25 January–18 March 2023

Open Wednesday–Saturday, 12–6 pm

Editorial Tables: Reciprocal Hospitalities is an exhibition and public programme bringing together the publishing practices of Ruth Beale, Sezgin Boynik (Rab-Rab Press), Minna Haukka & Kristin Luke (The Mobile Feminist Library), Minna Henriksson, Rose Nordin, and Elham Rahmati & Vidha Saumya (NO NIIN magazine).
The project is a collaboration between The Showroom and Frame Contemporary Art Finland, building upon a long-term process of curatorial exchange following the inaugural Gathering for Rehearsing Hospitalities 2019, convened by Frame in Helsinki, Finland; and leading to the establishment of a new partnership with the Finnish Institute in the UK and Ireland. The exhibition and public programme are co-curated by Lily Hall at The Showroom and Yvonne Billimore & Jussi Koitela at Frame.
Editorial Tables celebrates the production and dissemination of knowledge through the act of independent, experimental and artist-led publishing, with a focus on intersecting feminist and decolonial perspectives. The project involves a range of publishing, archiving, print and distribution practices by artists, curators and art workers, bringing these into relation and dialogue in the lead-up to the realisation of the exhibition at The Showroom.
The space of the exhibition aims to open up new connections through live processes of encounter and exchange around printed matter, where visitors can engage and think with the material in the space. There will be opportunities to connect, correspond and collaborate during the public programme and over the eight-week duration of the show.
The collaboration forms part of the core exhibition and public programme at The Showroom in 2023; Rehearsing Hospitalities, Frame Contemporary Art Finland's public programme for 2019–2023; and Together Again, a programme by the Finnish Academic and Cultural Institutes, towards which artist Minna Henriksson will further contribute in 2023.

This exhibition and public programme are the first in a series of international collaborations forming the final year of Rehearsing Hospitalities working with The Showroom (London), UKS (Unge Kunstneres Samfund / Young Artists' Society) (Oslo), Vera List Center for Art and Politics (New York), Finnish Cultural Institute in New York and Finnish Institute in the UK and Ireland.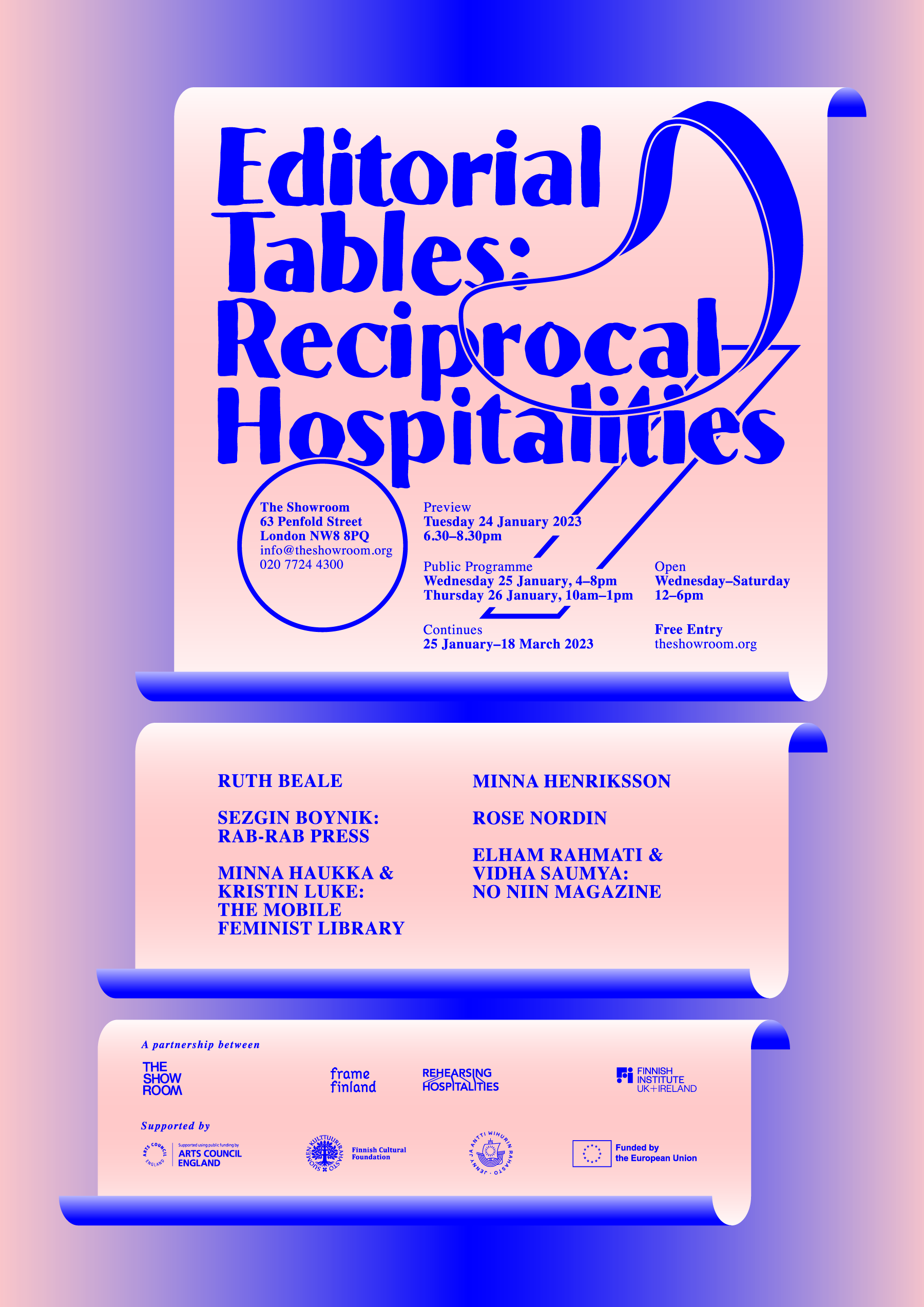 Throughout the eight-week duration of Editorial Tables the public programme brings publics and artists together to activate matters, material and processes presented in the exhibition.
Following the opening there will be a two-day programme of talks, workshops and performative interventions from the contributing artists, designers, publishers and curators in dialogue with invited guests with a focus on (re)writing histories, embodied archival encounters and the roles of publishing in relation to these. Further activities, including artist screenings, workshops and discussions will also take place over the course of the exhibition.
Public Event 
Wednesday 25 January, 4–8pm
Free but booking is required, book here

With the contributing artists, designers, publishers and curators hosting tours, actions and discussions around their intersecting 'editorial tables', this event offers an introduction to each of their practices and the materials gathered together in the space. 
Programme timeline 
Part one
Arrival from 3.30pm
4–4.15pm: Introductions
4.15–5.00pm: Minna Haukka & Kristin Luke: The Mobile Feminist Library, with Magda Oldziejewska: The Feminist Library
5.00–5.15pm: break, browsing and move upstairs
5.15–6.00pm Elham Rahmati & Vidha Saumya: NO NIIN magazine, with Mavelinadu Collective, upstairs in the Studio. A recording will be available online after the event
Part two
6.00–6.05pm: break and movement downstairs
6.05–6.10pm: short intro
6.10–6.45pm: Minna Henriksson: Kiila Feminist Archive
6.45–7.15pm: Rose Nordin and Priya Jay
7.15–7.45pm: Sezgin Boynik: Rab-Rab Press
7.45–8.00pm: break, browsing and move upstairs
8.00–8.20pm: Ruth Beale and The Hundred Club (upstairs in the Studio)
The event begins outside The Showroom with a tour of The Mobile Feminist Library van by Minna Haukka and Kristin Luke. Following this, they will guide us through their collections selected for Editorial Tables and introduce some of the live processes of maintenance and making that will be unfolding in the space over the coming eight weeks. They will be joined by activist, writer and researcher Magda Oldziejewska who, with a focus on reproductive, LGBTQ+ and migrant rights, will share the histories and working practices of the Feminist Library. 
Joining us digitally from Helsinki, NO NIIN Magazine founders and editors Elham Rahmati and Vidha Saumya will give an introduction to their magazine and welcome Mavelinadu Collective, their guest in Mumbai. The collective will talk about the process of founding and running Mavelinadu, a publication house and cultural platform that publishes the work of marginalised caste creators digitally, due to launch their first print publication in mid-2023.
After a short break and time for browsing, Minna Henriksson gives us a tour of a new iteration of the Kiila Feminist Archive in London. Henriksson's archive-as-artwork is based on her long-term studies of the early years (~1936-1939) of the artists' and writers' association in Finland, Kiila, as they continue to resonate in the present. In English, Kiila translates as 'the wedge'. Henriksson foregrounds intersecting feminist issues at the core of Kiila's founding principles, which have since been obscured, lost or actively written out of its histories. As an active current member of Kiila, she continues re-tracing, translating and subjectively situating these feminist orientations through the fiction writing of its founding female members.
Rose Nordin will be joined by her collaborator, writer and researcher Priya Jay from publishing platform STUART for a conversation on 'publishing paper prayers'; exploring expansions of the notions of publisher and publics beyond the material realm by drawing upon the form-changing process of paper burning as ritual practice. The conversation will be an invitation and a gathering to reflect on the featured written fire prayers formatted in the traditional Malay poetic form of the Pantoum. A fire will invite a delicate burning of the texts; a counterpoint to considering books as a violent or destructive act, and a gesture instead towards the transformative potential of paper invocations translated through fire. 
Sezgin Boynik introduces Rab-Rab Press, an independent publishing platform based in Helsinki combining experimental art forms and leftist politics with scholarly rigour and punk attitude. As we browse the Rab-Rab: journal of political and formal inquiries in art and published materials on display, Boynik will talk about a number of recent, nascent and upcoming Rab-Rab projects and collaborations.
Ruth Beale and children from The Hundred Club – an experimental creative space for children to use arts and play to explore social justice issues – share interview videos responding to the question "what would you change?".
Recordings and materials from a number of the presentations will be made available online after the event. 
Zine-making Workshop
Thursday 26 January, 10am–1pm
Free but booking is essential as spaces are limited, book here

Gather round Editorial Tables for a morning mapping and zine-making workshop, led by co-curators Lily Hall, Yvonne Billimore and Jussi Koitela.
In the lead-up to the exhibition, the contributors and curators convened online for a series of workshops to explore connections and correlations between the materials and practices being brought together towards the show and public programme. As the Editorial Tables have taken shape intersectionally, the space has become a lively terrain through which publics are now invited to move and orientate in non-linear ways. 
This workshop leans on principles of reciprocity and hospitality; sharing tools, methods and processes for making zines on the in-house Riso printer, to 'map' materials in the exhibition in situated, subjective ways that correspond with each participant's interests.
Further activities 
Zine-making & Riso printing sessions
Saturday 4 February
Saturday 18 February
Saturday 11 March
2–5pm
Free but booking is required.
More information and booking here.
The Hundred Club at The Showroom – make a newspaper in a day
Saturday 4 March
12.30–2.30pm
A free family workshop for 6-12 year olds and their siblings, parents and carers. We ask parents and carers to stay and get involved. Booking is essential as places are limited.
More information and booking here.
Rolling Our Own: Linocut print workshop with Minna Henriksson
Friday 17 March, 11am-5pm
Free but booking is essential as places are limited.
More information and booking here.
Kiila/ The Wedge: Archive-as-Artwork, a reading group
Saturday 18 March, 2-4pm
Free but booking is essential as places are limited.
More information and booking here.
Ruth Beale is an artist based in London. They attended Edinburgh College of Art and Goldsmiths, University of London. Their socially-engaged and collaborative practice explores how culture, governance and social discourse create society, and how society creates culture. They use dialogue, drawing, publishing, performance, film and installations – and themes of sci-fi, pedagogy, education and public space – to examine institutions and grassroots activity, from prisons to common land, to schools and libraries. 
Ruth works collaboratively with Amy Feneck as The Alternative School of Economics, and together they founded Rabbits Road Institute Library. Ruth works with Simon Elvins on All the Libraries in London. Since 2021, they have worked with TACO! in Thamesmead to produce The Hundred Club, a space for children and families to use art and play to explore social justice issues, and publish an annual newspaper. 
Sezgin Boynik is a writer, editor and publisher based in Helsinki. He defended his PhD in the Social Science and Philosophy Department in Jyväskylä University in 2014 on Yugoslav 'Black Wave' Cinema. In Helsinki he is running Rab-Rab Press, an independent publishing platform combining experimental art and leftist politics with scholarly rigour and punk attitude. Among the achievements of Rab-Rab are six volumes of journals, and internationally recognized books such as Coiled Verbal Spring, Free Jazz Communism, The Railway, Marx in the Woods, Punk Suprematism, The Marketplace of Art, and Journey to the Land of Movies. 
Boynik is a founding member of Pykë-Presje, an independent platform based in Prizren, Kosovo, working with archives, emphasising local histories of people's movements, gender emancipation and class consciousness defying the nation-state narratives. Pykë-Presje runs a bookshop, library and gallery in Prizren. Boynik is also a member of the editorial collective of OEI: magazine for experimental thinking based in Stockholm. He edited the special issue of OEI no. 91-92 in 2021 titled "Sickle of Syntax and Hammer of Tautology: Concrete and Visual Poetry in Yugoslavia, 1968-1983'. 
Apart from publishing, Boynik is teaching theory classes in the Academy of Moving people and Images (AMPI) in Helsinki, and is involved in exhibition making. He co-curated the exhibition 'Artist at Work' in the Museum of Contemporary Art in Ljubljana opened in September 2022, with Pykë-Presje's new commissioned work took part in Manifesta 14 Biennial in Prishtina, participated in 3rd Autostrada Biennial in Prizren in 2021, and curated an exhibition 'Portrait of Yugoslavia in the Style of Art & Language' in in the Museum of Contemporary Art in Ljubljana in 2019.
Minna Haukka is a Finnish artist based in London since 1999. She works with mixed media; installation, sculpture, textiles, video, drawing and archiving. Much of her practice is socially engaged with interest in deconstructing and repurposing the everyday. She was artist in Residence at the Feminist Library in London from 2018 to 2020, where she has volunteered since 2015. She is currently lead co-ordinator of the Library's Curatorial Group. She initiated and co-curated Monica Sjöö The time is NOW and it is overdue! exhibition at the Beaconsfield Gallery, London during summer 2022. Haukka has been exhibiting nationally and internationally since 1993 and she has co-curated projects at the Showroom Gallery, Space Station 65 and Feminist Library, London and at HilbertRaum Gallery, Berlin.
Kristin Luke (born in 1984 in Los Angeles, California, USA and based in Penmachno, Snowdonia, Wales) is an artist who works across film, sculpture and live events. She is currently an artist advisor on the R&D project Dyffryn Dyfodol (Future Valleys) and has recently opened Oriel Machno, a remote, rural community gallery in North Wales. From 2019–2020, Luke was the artist-in-residence for The Wall Is _____, a collaborative project with a North Wales housing estate, addressing community self-perception and supported by the Paul Hamlyn Foundation. From 2017–18 she was an editorial group member and contributor to Schooling & Culture, a journal on radical education produced in collaboration with MayDay Rooms and The Showroom Gallery. In 2015–16 she was an Open School East Associate. She was a member of the artist group MoreUtopia! Her work and projects have been exhibited at galleries including Forum Box (Helsinki); Mostyn (Llandudno, North Wales); De La Warr Pavilion (Bexhill-on-Sea); South London Gallery; Arnolfini (Bristol); Somerset House (London); Enclave (London); AND/OR (London); Bas Fischer Invitational (Miami); Jerwood Arts (London); and The Agency (London).
Haukka and Luke have collaborated on The Mobile Feminist Library project since 2018; a white van converted into a library that was part of Still I Rise exhibitions at De La Warr Pavilion and at Arnolfini Gallery in Bristol, 2019. Their recent projects include In Words, In Action, In Connection at Mostyn Gallery 2021 and Companions at Forum Box Gallery, Helsinki 2021.
Minna Henriksson (b. 1976, Oulu, lives in Helsinki) is a visual artist working with a disparate range of tools including text, drawing, painting and linocut. She studied art in Brighton, Helsinki and Malmö. Henriksson's work relates to leftist, anti-racist and feminist struggles, and aims at highlighting positions of power and oppression. The works are based on research and often draw from real historical events. 
Henriksson has been active in various art workers' collectives. She is a member of the Kiila association. In 2017 Henriksson was awarded with the Anni and Heinrich Sussmann Award of artistic work committed to the ideal of democracy and antifascism.
Rose Nordin is an artist and graphic designer from London currently based in the Netherlands. She is also a participant of the Jan van Eyck Academy. Through her practice and research, Rose explores the publication as a site of exchange and collaboration, print technologies as tools for union and letterforms as modes of magic. As a designer, Rose makes artist books and printed matter working closely with artists and communities. Her book-making process extends to exhibition and custom type design.
Rose is the initiator STUART publishing imprint at Iniva (with Amrtia Dhallu, Priya Jay and Sepake Angiama) a member of OOMK art publishing collective and a founder of Rabbits Road Press community printing studio. Ongoing and previous commissioners and residency hosts include: Somerset House Studios (UK), Documenta 15 (Germany), Art Night (UK), Serpentine Galleries (UK), Portland Institute of Contemporary Art (USA), Tai Kwan Contemporary (Hong Kong) and AWE Galley (Malaysia). Rose was previously research associate at Iniva (UK), Social Practice Fellow at the University of Chicago (USA) and associate lecturer at the University of Arts London.
Elham Rahmati (b. 1989, Tehran) is a curator, editor, and visual artist based in Helsinki. She is the co-founder and co-editor of NO NIIN, an independent online monthly magazine at the cusp of art, criticality, and love. Elham's practice is motivated by the disruptive sparks emerging from the intersectional art and culture environs that counter the status quo, aspiring to develop them as springboards for new ways of thinking and working towards hope, liberation, and building transnational, feminist, and anti-imperialist solidarities. In 2019 and 2020, Elham worked as the curator and producer of the Academy of Moving People & Images (AMPI), a film school in Helsinki for mobile people – those who have arrived in Finland for different reasons. AMPI aims to provide a free learning platform where people from different backgrounds acquire tools and methods with which they can tell the stories they find urgent. Before that, she worked as a curator & coordinator at Third Space, an artist-run gallery emerging as a response to the lack of inclusivity and diversity in the art scene in Finland. Elham holds an MA in Visual Arts from the Accademia di Belle Arti di Firenze and an MA in Visual Culture, Curating & Contemporary Art from Aalto University.
Vidha Saumya (b. 1984, Patna, India) lives and works in Helsinki. She is the co-founder and co-editor of NO NIIN, a Helsinki-based online monthly art magazine, and a founding member of the Museum of Impossible Forms, Finland. Her art practice is woven through the notions of exile and utopia and her works question the normatives of aesthetics, gender, taste, academics or the most gigantic one of our times – the populist nation-state. She received a BFA in Drawing and Painting from Sir J. J. School of Art, Mumbai, studied Visual communication Design at Srishti Manipal Institute of Art, Design and Technology, Bengaluru, pursued an independent study program at Beaconhouse National University, Lahore, and holds an MA in Visual Culture and Contemporary Art from Aalto University, Helsinki.
Ajinkya Dekhane is a Mumbai-based architect, artist and writer. Coming from an Ambedkarite Buddhist background, his practice engages with spatial exploration and expression of caste ghettos in the urban space. He uses architectural drawings, sketches, fiction and non-fiction writing to narrate stories of his people and expose the rot of caste that lingers in the very foundation of Indian cities.
Shrujana N Shridhar is an illustrator and artist based in Mumbai. She works on children's books and editorial illustrations. Her work centres on anti-caste expression from an Ambedkarite and feminist perspective. She belongs to the Ambedkarite-Buddhist community and runs the Dalit Panther Archive, which focuses on digitising and translating Little Magazines and literature published by the members of the Dalit Panther movement.
Mavelinadu is an anti-caste publication and community space by & for marginalised castes and indigenous people. The collective comprises of Ajinkya Dekhane, Sanjana Ajith, Shrujana N Shridhar, Hritik Lalan and Anubhuti Rabha.
Opening
Tue 24 January 2023, 6.30-8.30pm
The Showroom, 63 Penfold Street, London
No booking required
Public programme
Public event
Wed 25 January, 4-8pm
The Showroom, 63 Penfold Street, London
Free but booking is required, book here
Recordings and materials from a number of the presentations will be made available online after the event.
Zine making workshop
Thur 26 January, 10am-1pm
The Showroom, 63 Penfold Street, London
Free but booking is essential as spaces are limited, book here
For ages 16+
The Showroom
The Showroom is a contemporary art space focused on collaborative approaches to cultural production within its locality and beyond. It commissions and produces art and discourse; providing an engaging, collaborative programme that challenges what art can be and do for a wide range of audiences, including art professionals and local communities. Through major commissions and smaller projects The Showroom works with artists and other practitioners who have not previously had significant exposure in London, often introducing international artists to the UK, and working in partnership with other individuals and organisations within their networks, both at home and abroad. 
The Finnish Institute in the UK and Ireland
The Finnish Institute in the UK and Ireland is an expert on Finnish culture and society. The Institute supports the internationalisation of Finnish contemporary art and helps artists, researchers and social and cultural actors to create international networks. The Institute was founded in 1991 and it is a non-profit, private foundation funded by The Finnish Ministry of Education and Culture.
The Institute builds partnerships between Irish, British and Finnish organisations. They do this by identifying signals of change in the fields of art, culture and society and supporting new perspectives to contemporary issues. The Institute encourages cross-disciplinary and cross-border collaboration by creating networks and building new partnerships.
Rehearsing Hospitalities 2023 is part of the EU-funded project Islands of Kinship: A Collective Manual for Sustainable and Inclusive Art Institutions. The Finnish Academic and Cultural Institutes' commissioning programme Together Again is funded by the Finnish Cultural Foundation and the Wihuri Foundation. The Showroom is supported using public funding by Arts Council England.
The Showroom has a step-free entrance on Boscobel Street to the ground floor Gallery space, and a platform lift to the first floor Studio space. Please contact The Showroom in advance of your visit for more access information or if you have any further questions at info@theshowroom.org.
The Safer Space Guidelines will be updated on this page soon.