Four Finland-based art organisations are offering residencies and accommodation for Ukrainian and Ukraine-based artists and art professionals who are fleeing from Ukraine or who have been displaced due to the war in Ukraine. In collaboration with Frame Contemporary Art Finland, HIAP – Helsinki International Artist Programme, Connecting Points programme and Saari Residence, both short and long stays in Finland are provided for individuals and families.
We are open for residency requests as long as there are available places in the two residencies. Our priority is to respond to the urgent need for accommodation for artists and art professionals.
The residencies are located in Helsinki at the residence of HIAP – Helsinki International Artist Programme and in Mynämäki, Southwest Finland, at the Saari Residence. The residency covers the travel and living costs of the residents. The residency period can last from 1 week up to 3 months. The family residency can be extended to four people.
We stand for immediate peace in Ukraine. We encourage everyone to contribute any way they can, whether it's demonstrating, donating, sharing information or providing other kinds of support.
Please see HIAP website to inquire about a residency place and to fill in the Residency Request form.
For further information and general inquiries, please contact us by email at: ukraineaid (at) hiap.fi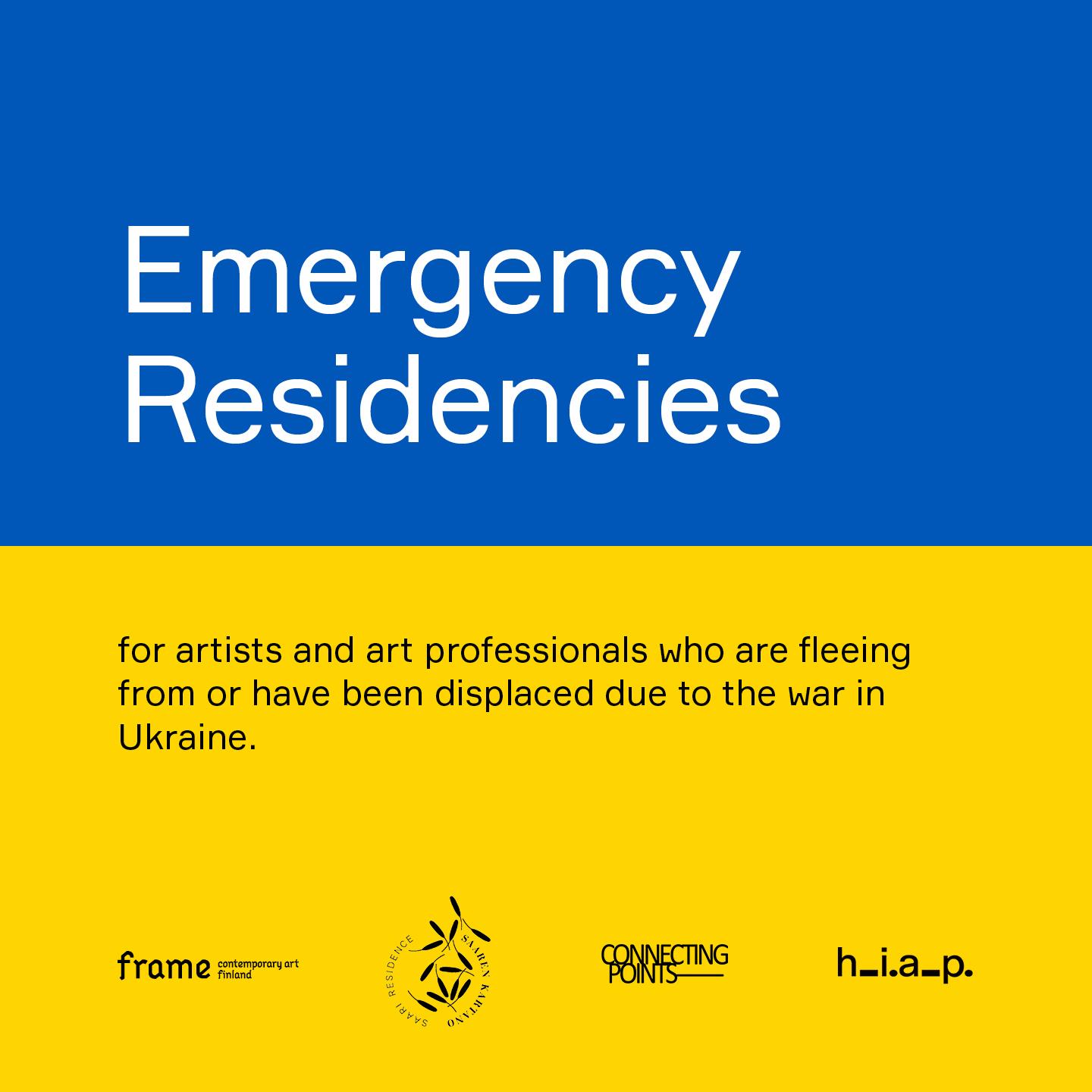 Information about the residencies and collaborators
HIAP – Helsinki International Artist Programme is an international artist residency organisation which was established in 1998. The HIAP residency programme offers time and space for artists and curators to develop new work in dialogue with the local art scene. The goal is to support experimental, cross-disciplinary art practices and to actively contribute to topical debates within and around the context of art. Since 2019 HIAP is also responsible for managing the Villa Eläintarha artist residency which focuses on short term production residencies.
Saari Residence, maintained by Kone Foundation, is an international residence for professional artists and researchers in Mynämäki, Southwest Finland. The residency places are intended for individual professional artists, fiction writers, poets and novelists, translators, composers, sound artists, curators and critics and artistic collectives of all disciplines and all nationalities. Saari Residence is located in a tranquil rural setting surrounded by nature, on the shore of Mietoistenlahti, 30 km north of Turku.
Frame Contemporary Art Finland is an advocate for Finnish contemporary art. Frame supports international initiatives, facilitates professional partnerships, and encourages critical development of the field through grants, visitor programme and curator residencies, seminars and talks, exhibition collaborations and network platforms. Frame coordinates Finland's participation in the Venice Biennale.
Connecting Points is a programme that aims at strengthening the collegial and curatorial activity in artistic and cultural realm in/within Finland and in Russia. The programme is currently coordinated and curated by artist-curator Miina Hujala (from 2016 until 2020 together with Arttu Merimaa who also run a display window space called Alkovi in Helsinki). In 2022 Connecting Points programme directs its resources in aiding the humanitarian crisis in Ukraine.